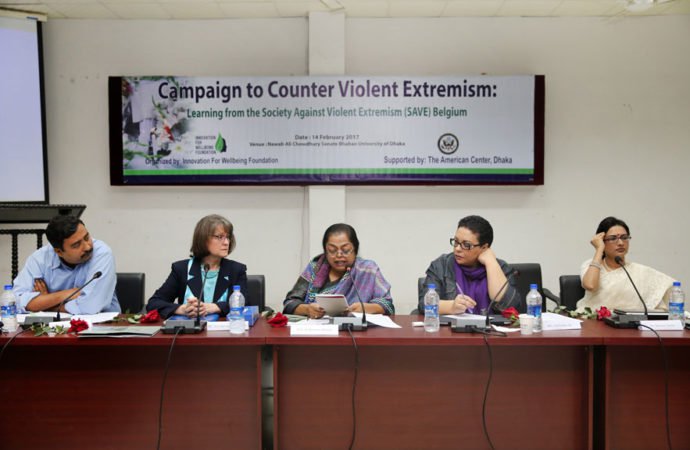 Extremist groups can more easily radicalise youths throughout the world as the youths are mentally vulnerable realising social injustices towards people, said speakers in a programme on Tuesday.
The programme titled "Campaign to Counter Violent Extremism," held at the Nawab Ali Chowdhury Senate Bhaban of Dhaka University was organised by the Innovation for Wellbeing Foundation in association with the American Center, Dhaka.
Founder of Society Against Violent Extremism (SAVE) Belgium Saliha Ben Ali, mother of an ISIS recruit, shared her experience with radical militancy. She feels that mothers can prevent their children from becoming involved with extremism by providing counselling and friendship to their children.
National Institute of Mental Health Psychiatry Assistant Professor Dr Mekhala Sarkar said radicalisation is not caused by any kind of socioeconomic deprivation, brainwashing or mental instability, but is rather dependent upon their seeking fulfillment for some identity and existential crises which is addressed by the propaganda, presentation and group psychology within extremist groups.
The speakers felt the global youth are easily swayed towards violent extremism because a lack of democracy in the country and the absence of good governance has instilled in the youth a concept of perceived injustice.
Speakers raised questions about the lack of conversation regarding the July 1 Dhaka attack and the state extremism committed by the police in the name of countering extremism.
They said proper research on extremism, identification of the sources of extremists and clear understanding of the strengths and weaknesses of the country's laws are required to fill the existing information gap.
Mekhala also said research on emotional intelligence was also required in order to identify a way to save the youth.
Source; Dhaka Tribune