Protests against Abrar murder spread across country
Buet students announce 8-point demand
Nayadiganta English Desk     08 October 2019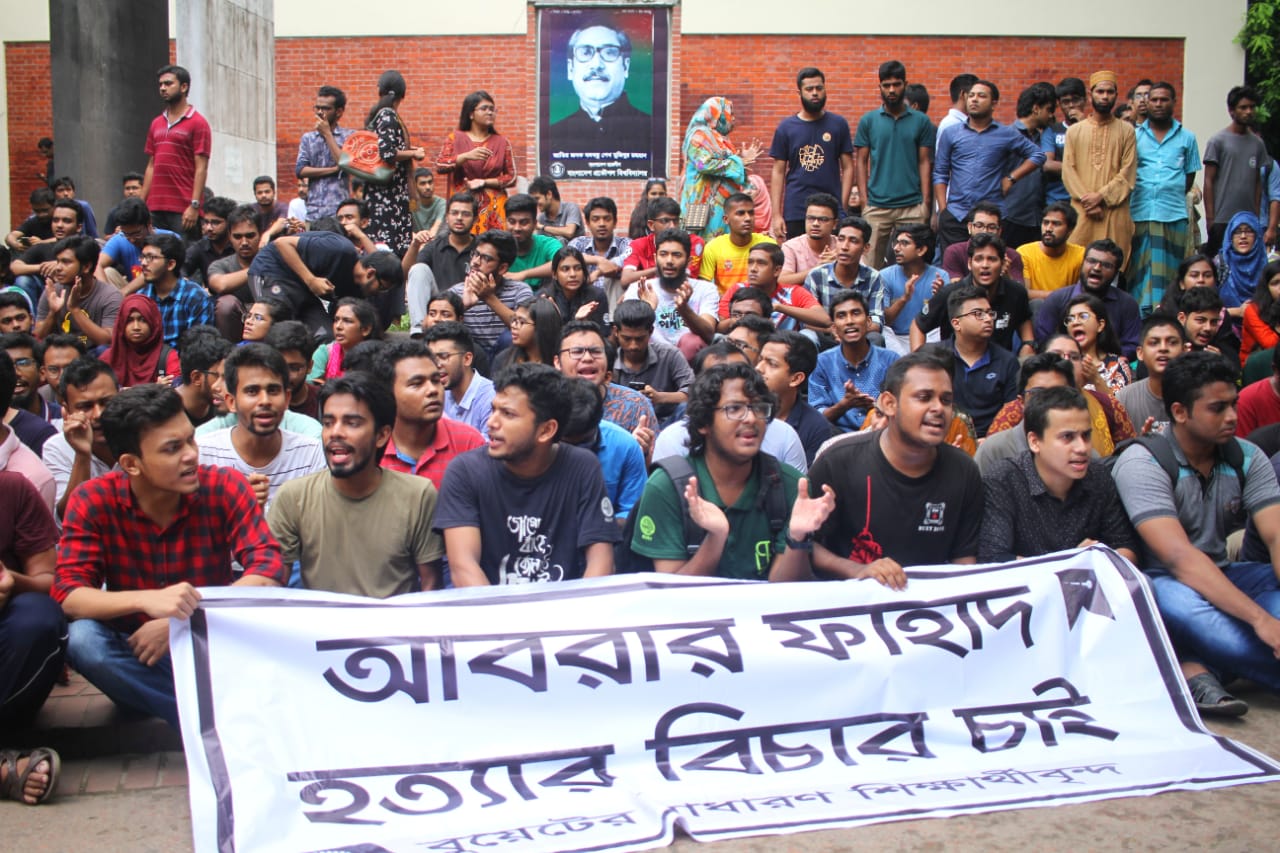 Students of different universities and colleges across the country staged demonstrations on Tuesday demanding capital punishment of those involved in the murder of Abrar Fahad, a second-year student of Bangladesh University of Engineering and Technology (Buet), UNB reports.
In Dhaka, Buet students continued their demonstrations to press home their eight-point demand, including the arrest of all the accused in Abrar murder case and their capital punishment.
Outraged by the gruesome murder, the Buet students came out of different residential halls and gathered in front of the university's central cafeteria around 10am to press home their demands.
Their other demands include expulsion of all the identified killers from the university for life within 72 hours, trial of the case under a tribunal, expulsion of the raggers who mentally and physically torture students for differences of opinions.
Besides, withdrawal of Sher-e-Bangla Hall provost Muhammad Jafar Iqbal Khan before 5pm for his ignorance about the incident of driving out some students from the hall using political clout, bearing all the expenses of Abrar murder case by the Buet administration and compensation for Abrar's family and banning party politics on the campus are among the demands.
They vowed to continue their protests until their demands are met.
Meanwhile, Buet Teachers' Association President Prof Dr AKM Masud expressed solidarity with the protesting students and demanded exemplary punishment of those responsible for Abrar's murder.
He joined the demonstrating students around 12:30 pm in front of the university's Shaheed Minar.
"We demand capital punishment of Abrar's killers so that no one dares to commit such a crime in the future," Prof Masud said.
"The culture of ragging under political banner should be stopped. We've talked to the administration several times about it, but they didn't give any importance," he said.
Besides, several hundred students of different educational institutions, including Dhaka University, attended a 'Gayebana Janaza' held in front of Anti-Terrorism Raju Memorial Sculpture on the DU campus.
After the prayers, they brought out a procession from there holding a dummy coffin on their shoulders and paraded different points of the DU and Buet campuses before ending it at the same place.
Apart from that, students of seven colleges affiliated with the Dhaka University formed a human chain in front of Dhaka College seeking justice for Abrar Fahad.
In Rajshahi, students of Rajshahi University (RU) gathered in front of the main gate of the university around 11:30 am and brought out a procession demanding justice for the Buet student.
Later, they marched towards Dhaka-Rajshahi highway and put up a barricade there for some time.
As police tried to disperse the agitating students, a scuffle took place between them, said witnesses.
Later, the students returned to their university following the intervention of RU Proctor Prof Lutfur Rahman.
They also brought out a torch procession on the campus in the evening.
In Bogura, students under the banner of Bogura unit Bangladesh Students' Union formed a human chain at Satmatha in the district town demanding punishment of Abrar's killers.
In Manikganj, Bangladesh General Students' Rights Protection Council formed a human chain in front of Manikganj Press Club demanding highest punishment of those involved in the murder.
In Cumilla, students of different colleges and universities, including Cumilla University and Victoria College, formed a human chain in front of the Town Hall at Kandirpar of the city protesting the killing of Abrar and demanding punishment of the murderers.
In Khulna, students of different universities under the banner of 'Aguan-71' formed a human chain at Shibari intersection demanding exemplary punishment to those involved in the Abrar killing.
Abrar, 21, was found dead on the staircase of Sher-e-Bangla Hall of the university early Monday.
Some BCL leaders beat him at room-2011 of the dormitory on Sunday night suspecting his link to Bangladesh Islami Chhatra Shibir.