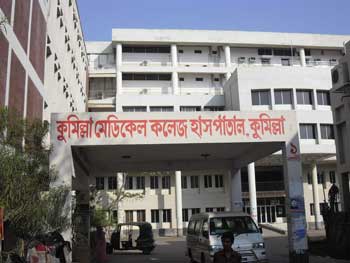 A doctor of Comilla Medical College Hospital (CMCH) was found dead in a dormitory at the hospital compound on Saturday.
Police recovered the decomposed body of Hasibul Hoque Hasan, 37, son of Abdul Hamid of the capital, around 7am.
Hospital sources said Hasibul, along with three of his colleagues, had been residing in a dormitory on the CHCH campus.
After works, all his room mates went to their respective village homes on Thursday.
On their return to the dormitory, they smelt odour coming from Hasibul's room on Saturday morning.
As the room was locked from inside, they looked through the window and saw Hasan's body lying in the room.
Being informed, police appeared at the spot, recovered the body and sent it to the hospital's morgue for autopsy.
Assistant police super (Sadar circle) Jahangir Alam said Hasan might have died on Thursday night, adding that it can be ascertained after post-mortem whether it was a natural death or killing.
Another source at the hospital said the deceased was a drug addict.
Source: UNBConnect