Per capita health expenditure has increased to $27 in Bangladesh, but the government's share still remains low, which experts say is "not consistent" with the goal to achieve universal health coverage.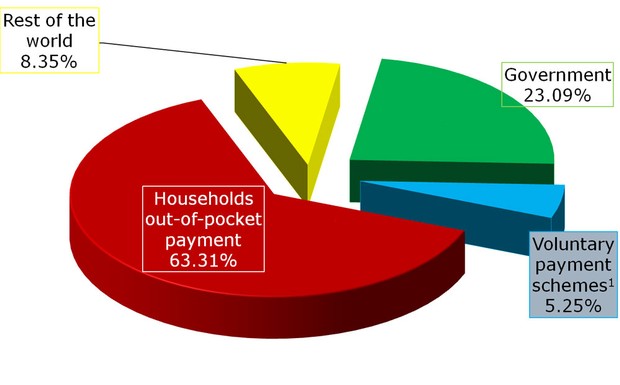 A new 'Bangladesh National Health Accounts' released on Wednesday showed that the per capital health expenditure had increased to $27 in 2012 from $16 in 2007 when the last national health accounts was counted.
But the government's share has declined to 23 percent from 27 percent between the two studies, putting pressure on the public.
People spend more than 63 percent of their total health spending from their own pocket which is one of the highest in the region.
"Historically as countries get richer they spend a greater share in the health sector," Dr Ravi Rannan Eliya, an international national health accounts expert, told bdnews24.com.
"Bangladesh is the other way which is not consistent with the UHC (Universal Health Coverage)".
UHC ensures access to healthcare without financial catastrophe. Globally, it is being advocated as a means of poverty reduction.
Bangladesh has adopted a plan to achieve the goal by 2032, but the government is not increasing its health budget, and thus making people carry the burden.
In 1997, when the first National Health Accounts was released, the government's share was 37 percent of the total health spending.
Development partners contributed only 8 percent of the total health expenditure in 2012.
"Government should increase its spending in health as the economy grows," Dr Eliya, director of the Sri Lanka-based Institute for Health Policy, said.
He said it was evident from the national health accounts "public spending (in health) as a share of economy, as a share of GDP, has been falling since the 90s".
"And it is fairly low compared to other developing counties like Indonesia, Sri Lanka, and Thailand, which spend more".
He said private spending was going up as a result because people were forced to spend in health "that is not consistent with the goal of UHC".
Bangladesh is globally appreciated for "good health at low costs".
The prestigious medical journal, The Lancet, said Bangladesh's medical outcomes were a "paradox" that the policymakers often referred in their public speeches.
But Dr Eliya warned against complacency as universal health coverage was "not just about good health outcomes".
"It (UHC) consists two things – access to healthcare to get good health outcomes and also includes risk protection, which means people should not be impoverished in order to access medical care".
"On that outcome Bangladesh is bad," he said, "that is related to the low level of public spending".
Junior health minister Zahid Maleque also lamented the low health budgets during the release of the national health accounts results.
Health Minister Mohammed Nasim last year after assuming the office said he would pick up fights with the finance minister to increase his share in the budgets.
The World Health Organisation recommends $54 minimum per capital health expenditure.
Source: bdnews24