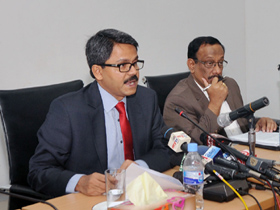 State Minister for Foreign Affairs M Shahriar Alam on Sunday said India is yet to inform Bangladesh formally about the arrest of Narayanganj seven-murder prime suspect Nur Hossain.
"India is yet to inform us formally about Nur Hossain's arrest. We came to know it through the mass media," he told reporters at his Foreign Ministry office.
Shahriar, however, said the Foreign Ministry would act fast once it gets a request from the Home Ministry to bring Nur Hossain back.
Nur Hossain could be brought back using two ways, the extradition treaty between Bangladesh and India that came into effect in October last year or with the help of the Interpol, he added.
Earlier, State Minister for Home Affairs Asaduzzaman Khan Kamal said the government has started the process to bring back the prime suspect of Narayanganj seven murders and his aides from India.
The State Minister said Kolkata police arrested him as Narayanganj police earlier sought Interpol's help to arrest Nur Hossain.
Nur Hossian, a Narayanganj city Awami League leader and also a councillor, and some of his associates remained absconding following the abduction and killing of Narayanganj city panel mayor Nazrul Islam, lawyer Chandan Sarker and five others.
On April 27, Narayanganj panel mayor Nazrul Islam, his three associates and driver were abducted by miscreants from Fatullah area of Narayanganj. Hours after their abduction, senior lawyer at district Judge's Court Chandan Kumar Sarker and his driver were also abducted on their way to capital Dhaka.
Three days into their abduction, the bodies of six people, including that of Nazrul and Chandan Kumar, were recovered from the Shitalakhya River on April 30. Besides, the following day, the body of Jahangir, car driver of Nazrul Islam, was recovered from the river.
Source: UNBConnect