The government has appointed new managing directors to three state-owned commercial banks, Sonali, Agrani and Rupali.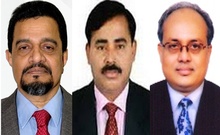 Karmasangsthan Bank MD Md Obayed Ullah Al Masud has been chosen to run Sonali Bank while Ansar-VDP Unnayan Bank MD Md Shams-Ul Islam will lead Agrani Bank.
Also, Probashi Kallyan Bank MD Md Ataur Rahman Prodhan has been put in charge of Rupali Bank.
The Bank and Financial Institutions Division sent circulars related to their appointments to the Bangladesh Bank and the three banks' Board of Directors on Tuesday, an official said.
Their appointments will be finalised once the central bank approves.
Masud, Shams and Prodhan will also be the three bank's chief executive officers (CEO).
Agrani Bank Chairman Zaid Bakht told bdnews24.com that they have received the letter regarding Shams' appointment as the new MD for next three years.
Reached for comment, Prodhan told bdnews24.com he has learnt that the Rupali Bank chairman has received the letter regarding his appointment.
Acting managing directors have been running the three state-owned banks for a while.
Source: bdnews24