His lively left-arm pace, deceptive slower balls, hostile yorker and cutters have mesmerised the cricket world. His teammates at Sunrisers Hyderabad like Ashish Nehra, Bhuvneshwar Kumar have heaped praise on him, saying they were willing to learn from him.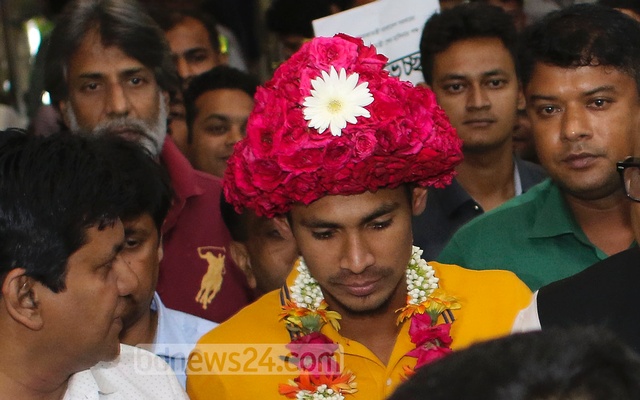 But Bangladesh's bowling sensation Mustafizur Rahman says his feet are still on the ground.
He returned to Bangladesh on Monday after the successful Indian Premier League campaign for around two months.
The 20-year-old was accorded a raucous reception in Shahjalal International Airport.
"I am still young. I want to learn more. There were many players from many countries in the IPL…I'll try to give something better if I get a chance next time," he said at the airport.
Mustafizur said his playing in the English county cricket for Sussex now depends on Bangladesh Cricket Board physician's report after the injury he had sustained in the IPL.
"I felt a little pain in my leg before the final match. I'll go and visit the physio and speak to the cricket board (Tuesday). Things be known then," he said.
He said he missed his parents most during the IPL stint. "I missed everyone, the country in India."
The whippy left-armer also said he could not learn much English in India because everyone wanted to learn Bangla from him instead.
"Everyone praises me. I know some cricket language though," he said.
Deputy Minister for Youth and Sport Arif Khan Joy and BCB CEO Nizam Uddin Chowdhury welcomed him back at the airport.
His uncles came to take him home.
Mustafizur has been declared the Emerging Player of this IPL for his box of tricks.
The seamer's four-over spell in the final match went for 37 for one wicket and he had a catch dropped. He snared a total of 17 wickets from 16 matches at a remarkable economy rate of 6.90 – the lowest among bowlers who bowled at least 20 overs.
Source: bdnews24