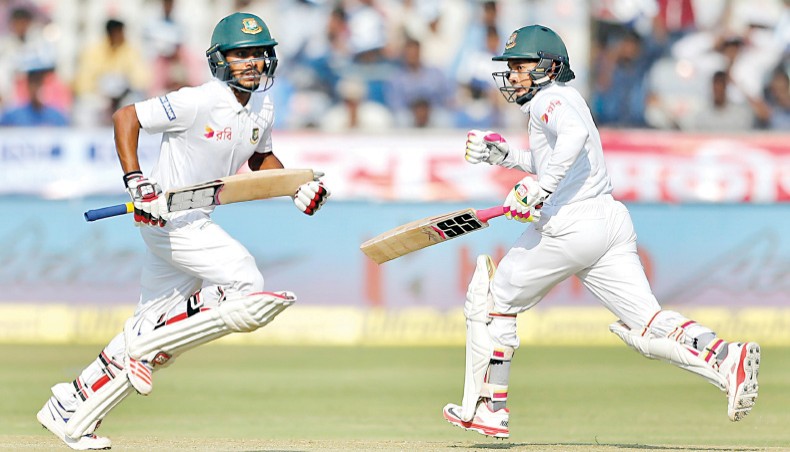 Sakib al Hasan wasted another chance of making a big innings but Mushfiqur Rahim and Mehedi Hasan continued to defy India to keep Bangladesh's hopes of an improbable draw in the one-off Test alive in Hyderabad on Saturday.
Sakib played a typically aggressive innings under pressure to lift Bangladesh from a precarious 109-4 and looked destined for his fifth Test century before an injudicious shot selection brought his demise.
Sakib, who looked as fluent as he remain during his any of his top innings, chose an ordinary Ravichandran Ashwin delivery to play over the top against the spin only to make a mistake with his timing.
He ended up with a simple catch of Umesh Yadav at mid-on for 82, leaving Bangladesh in danger of being bowled out before third day's play was completed at the Rajiv Gandhi International Stadium.
Luckily for Bangladesh, Mushfiq, who shared 107 runs with the all-rounder for the fifth wicket, did not follow the same path and put an outstanding effort to keep India on bay.
Mushfiq lost Sabbir Rahman (16) soon after Sakib had left but found an unlikely companion in Mehedi Hasan, who finally could justify his talent as a batsman with his maiden Test half-century.
The duo added 87 runs for in their unbroken seventh wicket stand helping Bangladesh past 300-run mark and finish the day on 322-6, though they still trail India by 365 runs in the first innings.
Bangladesh's first target, however, is now to save the follow on and they need another 166 runs to avoid the ignominy. With their tail already exposed it would not be any easy task for them to cross the follow on mark, but they can at least hope now, thanks to Mushfiq and Mehedi.
Mushfiq deserved some special plaudits for keeping his cool, especially on a day when he was taken to the sword for a missed stumping as wicketkeeper and his mishandling of bowlers and fielders as captain during India innings.
A failure with the bat, where his specialty lies mostly, would have added more pressure on the beleaguered skipper, but he could avoid it with his perseverance and tenacity.
Indians tested Mushfiq with short balls and Ishant Sharma once managed to hit him on his gloves to create a sense of déjà vu after a similar blow cost him the second Test against New Zealand.
Mushfiq, 81 not out at stumps, responded with a four in the next ball that summed up his character, something that Bangladesh cried for whole day to stay relevant in the game.
It would not have been, however, easy for Mushfiq had he not received the support from Mehedi, who could score just 20 runs in his previous eight innings despite his reputation as a decent batsman.
Mehedi remained unbeaten on 51 at close of play that is now bound to give Bangladesh's top-order some confidence for the second innings after they crumbled in an embarrassing batting display on third morning.
Indian seamers looked more threatening than their spinners and Umesh Yadav produced one of the most lethal spells ever by an Indian pacer but it had no role in Bangladesh's first dismissal of the morning.
In just third over of the day, Mominul Haque flicked Bhuvneshwar Kumar to square leg and completed the first run with ease but both he and his non-striking partner Tamim Iqbal hesitated for the second run which was never there.
Both of them stopped midway through the crease for a second before starting to run again. Throw came at bowler's end meaning Tamim had to leave without adding any run with his overnight 24.
Yadav beat Mominul with his extra pace to have him dismissed leg-before for 12 and Sharma prolonged Mahmudullah's lean patch in Test with a similar dismissal for 28 before Sakib finally launched the counter attack.
Source: New Age