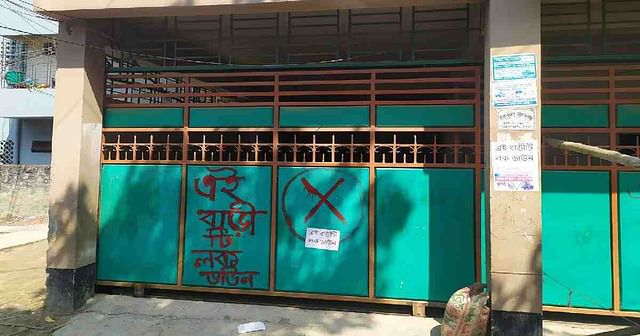 More houses and villages have been put under lockdown in different districts in a bid to prevent the transmission of coronavirus cases that started surging in the country, reports UNB.
The districts are Dhaka, Cumilla, Munshiganj, Sirajganj, Moulvibazar, Chattogram and Natore.
In Sirajganj, local administration has put 8-10 houses at Sarapur village in Tarash upazila under lockdown following the death of a garment worker on Monday, said Tarash upazila nirbahi officer Iffat Zahan.
The deceased, Zihadul Islam Zihad, 22, son of Abdus Sattar, went to his village home from Dhaka on 1 April and since then he had been suffering from sneezing, cold, sore throat and diarrhoea.
He died on the way to Shaheed Ziaur Rahman Medical College Hospital in Bogura on Monday afternoon.
Civil surgeon Zahidul Islam said family members did not take Zihad to any hospital earlier.
A medical team collected samples from Zihad and those will be sent to Rajshahi Medical College Hospital for test.
In Dhaka, local administration has kept three areas – Hijaltala, Guljarbag and Model Town — in Keraniganj upazila under lockdown as two people tested positive for coronavirus on Monday.
Upazila nirbahi officer Amit Deb Nath said the duo tested positive for coronavirus after test as they were suffering from fever and cold for the last several days.
Both of them were taken to Kuwait-Bangladesh Friendship Government Hospital in Uttara of the capital on Monday afternoon, he said.
Later, the local administration put 450 families in the three areas under lockdown.
In Munshiganj, seven houses in Tongibari and Gazaria upazilas were kept under lockdown as the local administration found some people close to a person infected with coronavirus in Narayanganj district.
Gazaria UNO Hasan Sadi said a policeman went to the house of his father-in-law in Bhaberchar area from Narayanganj and he came in contact with a person infected with the coronavirus.
Besides, Tongibari UNO Hasina Akter said six houses in Dulihata, Amtali and Arial villages were locked down after COVID-19 patients visited those.
In Cumilla, local administration on Monday put a house at Paschim Bagichagaon Station Road in the city under lockdown as an inmate is suffering from cold and fever, said Mohammad Shahadat Hossain, deputy civil surgeon of Cumilla.
After getting information, the local administration kept the house under lockdown in the afternoon, he said.
Besides, Daudkandi upazila administration locked down a house at Bhelanagar village after a resident showed coronavirus symptoms on Sunday.
UNO Quamrul Islam Khan said six families of the house were put under lockdown following the advice of the upazila health officer.
Samples from the man were collected on Monday for coronavirus test, he said.
In Natore, local administration on Monday kept six families under lockdown in separate villages in Singra upazila of the district.
"Six men of six families returned home from Dhaka and Narayanganj recently with symptoms that match coronavirus," said upazila health officer Aminul Islam.
Following this, the families were kept under lockdown, he said, adding that their samples were collected for test.
Rashidul Islam, Chamri union parishad chairman, said six people of Mohishmari, Bahadurpur and Narayanpur villages came home from Dhaka and Narayanganj recently.
They were working at garment factories and pulling rickshaws there, he said, adding that bamboo fences were made around their houses to restrict their movement.
In Moulvibazar, local people put five villages under lockdown after samples of a deceased were found positive for COVID-19 at Akua village in Rajnagar upazila on Sunday.
Rajnagar UNO Urmi Roy said the five villages — Akua,Syednagar, Bhangerhat, Dola and Goyghar — were put under lockdown from Sunday night.
In Chattogram, a supershop in the city was shut and its owner and staff were sent on a 14-day quarantine on Sunday after one of the employees tested positive for COVID-19.
The shop, 'Basket', was initially closed after the staffer's father tested positive for coronavirus on Saturday, the first case in the port city.
Sitakundu UNO Milton Roy said the owner and staff were sent on home-quarantine.
Meanwhile, the death toll from coronavirus in the country has risen to 12 as the country confirmed three more deaths on Monday.
So far, 123 people have been infected in Bangladesh, 35 in the last 24 hours alone.