The winners are to be announced after Sunday's final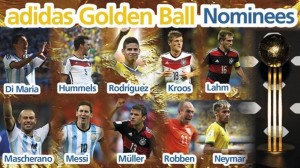 Argentine star Lionel Messi, Brazil's injured star Neymar are on a shortlist for the adidas Golden Ball.
Javier Mascherano and Angel Di Maria from Argentina are also on the list announced by FIFA on Friday.
The FIFA has officially announced the shortlist of the ten players of 2014 FIFA World Cup Brazil for the adidas Golden Ball.
The shortlist was drawn up by the members of FIFA's Technical Study Group, reports FIFA.com.
The group has been casting their expert eyes over each and every one of the matches held at Brazil 2014 to date.
The adidas Golden Ball is awarded to the competition's most outstanding performer.
The shortlist also includes seven names from Sunday's World Cup final between Germany and Argentina.
Captain Messi has scored four goals heading into the final.
Germany has four representatives, led by skipper Phillip Lahm, five-goal scorer Thomas Mueller, Toni Kroos, and Mats Hummel.
Neymar, who scored four goals before he suffered a fractured vertebrae, Colombia's hot shot James Rodriguez, with six goals, and the Netherlands' veteran forward Arjen Robben make up the top 10 list.
Past winners of the Golden Ball award for the best player include Uruguay's Diego Forlan (2010), Zindeine Zidane (2006), German goalkeeper Oliver Kahn (2002) and Argentine legend Diego Maradona (1986).
The top goalkeeper award will be chosen from Keylor Navas of Costa Rica, Germany's Manuel Neuer, and Sergio Romero, the Argentine who saved two penalties in the semifinal shoot-out with Holland.
The young player of the tournament will be decided between Dutch starlet Memphis Depay, and French duo Paul Pogba and Raphael Varane.
The winners, to be chosen by FIFA's technical support group, will be announced after Sunday's final.
Source: Dhaka Tribune