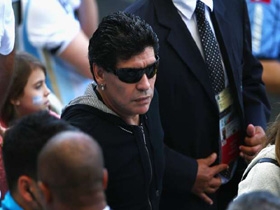 The footballing legend blasted the national team and coach for their approach in the World Cup, criticising the attacking play and suggesting Lionel Messi looks "lonely" up front
Diego Maradona has expressed his rage at Argentina's performances in the tournament, placing the blame firmly at the feet of Alejandro Sabella.
La Albiceleste progressed to the last eight of the competition on Tuesday following a narrow 1-0 extra-time win over Switzerland, with Angel Di Maria scoring in the 118th minute.
Maradona revealed his dismay with how his compatriots have performed so far, suggesting that they have yet to get going and slamming Sabella for not inspiring the team to play to their potential.
"I don't think we've started yet," the visibly emotional 53-year-old told De Zurda.
"The team has no change of pace, no movement at the front. I have something inside of me that is very strong, it's like bitterness, rage, anger. Argentina will have to play much better as a team."
The 1986 World Cup winner also spoke about the overreliance that the South Americans have on Lionel Messi, emphasising that they will need to improve significantly against Belgium in the quarter-finals.
"Messi is very lonely," the fomer national team head coach surmised.
"The Argentina midfield falter much and do not take initiative. If Messi does not take it forward we will fall in the next round as that will be to blame for Argentina's catastrophe.
"The team is playing at 40 per cent of its potential. There are players who have not yet started playing the World Cup, reports goal.com
"Belgium is another matter. If Argentina does not wake up, we're in trouble."
Argentina face the Red Devils in their quarter-final in Brasilia on Saturday.
Source: UNBConnnect