BNP Chairperson Khaleda Zia will meet her party's top leaders to finalise fresh agitation plans to press for a swift fresh poll under a neutral caretaker government.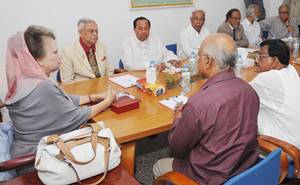 Top BNP leaders said fresh agitation plans are likely to be announced after the meetings.
Last month, Khaleda said demonstrations will start after the Eid-ul-Fitr.
Party's Joint Secretary General Ruhul Kabir Rizvi recently said movement plans would be finalised after meetings of the party's standing committee and the 20-Party Alliance.
The ruling Awami League has been rejecting the BNP's demand for early polls.
It claims the people will not support the BNP-led alliance's movement.
Western countries like US seem to back the demand for fresh and inclusive polls but India, China and Russia as well as most other countries seem content dealing with the present government.
Source: bdnews24