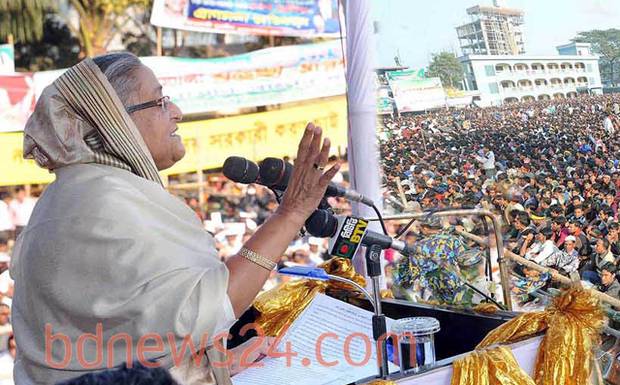 Prime Minister Sheikh Hasina has scoffed at BNP chairperson Khaleda Zia, saying she was the new 'Amir' of Jamaat-e-Islami.
"Khaleda Zia is no longer the chief of BNP but the Amir of Jamaat," she said.
"Jamaat was banned for terrorist activities even in Pakistan. They don't believe in Islam but uses it for their political gain," Prime Minister told the people of Jessore's Malopara on Thursday afternoon.
Malopara, a settlement of Hindu fishermen in Abhoynagar's Chapatola village, suffered brutal attacks and arsons after the national election on Jan 5.
The Awami League chief also said that people were attacked for casting vote.
The Prime Minister claimed BNP chief Khaleda Zia and Jamaat were united in their conspiracies against the country.
"She called strikes, blockades and ordered attacks on polling centres to stop the election," Hasina told the rally.
"She ordered that polling officers be burnt to death. The cadres of Jamaat have damaged 103 homes in Malopara. They gang raped two women at Rishipolli."
The government would take tough measures to protect communal harmony, she assured.
Addressing the rally she said, "We will have to work side by side to make sure people of all faiths have equal rights. The government will not tolerate anyone who tries to violate that."
The Prime Minister warned perpetrators of communal violence, saying the government "will be as tough as necessary but will not allow terror."
"No form of militancy and terrorism will be tolerated. We will be as tough as necessary."
She said Khaleda Zia 'lied' when she claimed people did not go to vote on Jan 5.
"She has become so used to lying that she even changed the date of her husband's birth. She even mixed up the date of the election in her speech," said Hasina about her arch rival.
"She will most definitely ask you to shut up if you try to point out her mistakes."
The Prime Minister said 40 percent turnout at the 10th national elections disproved the BNP chairperson's claim that she is "the leader of 95 percent of Bangladesh's people".
She ridiculed the BNP chief for sitting out and missing the 'election-train', saying, "Golapi, oh Golapi! You have missed the train."
The Prime Minister hit back at the BNP chief for her angry rant before the media about the horrific fate that would befall on Gopalganj, Hasina's ancestral home.
"Why are you so mad at Gopalganj? Is it because the father of the nation was born there? Did you not want your country to be free?" The Prime Minister said attacking the BNP chief.
"Or do you still dream of your beloved Pakistan. Are you so angry because you can't yet forget Pakistani rulers?"
Source: BD news24