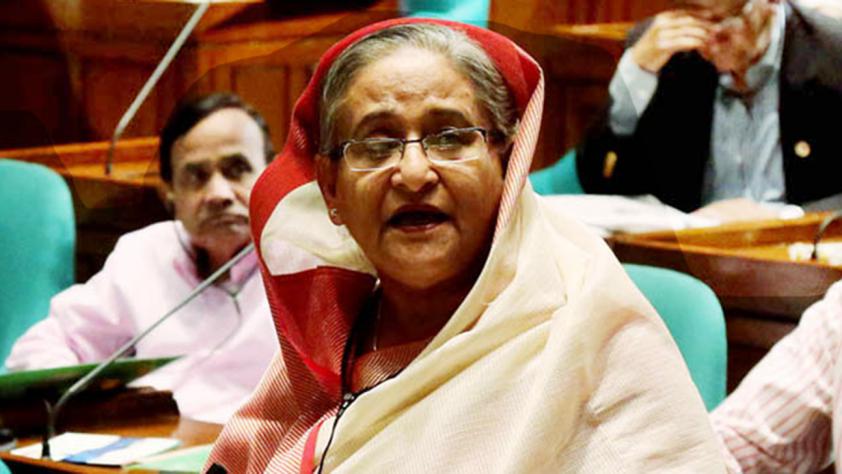 The prime minister, Sheikh Hasina, told parliament on Monday that conspiracy against democracy was still on and actors of January 11, 2007 political changeover remained active.
'Their conspiracy is yet to come to an end…They want to come to power at any cost through undemocratic way,' Hasina said in her valedictory speech of the 9th session of the 10th parliament.
Naming former Directorate General of Forces Intelligence officers Chowdhury Fazlul Bari and ATM Amin, the prime minister said that the intelligence officials tortured politicians, teachers, students and businessmen during the 2007-08 emergency regime.
She also branded the Daily Star editor Mahfuz Anam and Bangla daily Prothom Alo editor Matiur Rahman as cronies of the actors of January 11 political changeover and the emergency regime.
She said that the two newspapers published untrue and false news before her arrest based on the information supplied by Amin and Bari. 'Certainly they were involved in the conspiracy, if not, why they published untrue and false news,' she added.
'I want to ask Mahfuz Anam or Matiur Rahman why they have published such news…Either they were involved in the conspiracy or they were on the payroll of DGFI to work as its agents,' said Hasina.
She said that these people wanted to come to power, but had no capacity to be elected. 'They get importance if unconstitutional force assumes the state power…If they have intention to come to politics, they can form a political party,' she added.
The Awami League chief, who was behind the bars during the emergency regime, said that she did no more read the two newspapers after her release from jail. She said, 'I may lose my confidence…So why should I read those papers? I know what they will publish.'
Hasina said that she was the worst victim of media criticism, but her government did not want to gag media.
She said that people had been rejecting the Bangladesh Nationalist Party in the local government elections because of their criminal activities and corruption.
She said, 'BNP is a militant organisation. BNP and Jamaat are involved in militant activities. Whenever militant is caught by police, their roots are found in either BNP or Jamaat.'
She thanked law enforcers for their continuous efforts to curb militancy.
She thanked the president for presenting before the nation an important document about the socio-economic development of the country.
Referring to the sudden rise of child killing, the prime minister hoped that the courts would ensure capital punishment for the perpetrators so that none could dare to attack children.
Pointing at the gas explosion in an Uttara apartment, the prime minister said, 'People want not to waste a single match and keep their gas burners fired.'
A single match cannot be more precocious than life, she said, urging people to be conscious about using gas, water and electricity.
In her windup speech, the leader of the opposition in parliament, Raushan Ershad, praised the government's various development projects and asked the government to take initiatives to reduce public sufferings.
She also said that the prime minister should visit the capital at nighttimes to see the peoples' sufferings.
Source: New Age