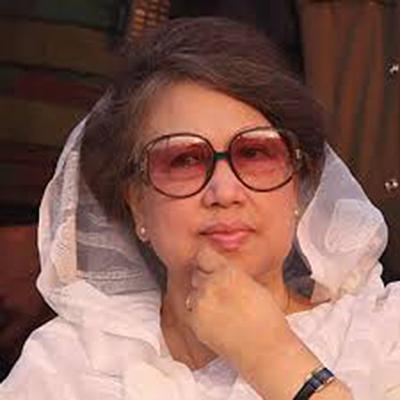 Bangladesh Nationalist Party (BNP) chairperson Khaleda Zia on Wednesday denounced the jailing of her party's senior leader MK Anwar and arrest of her adviser Shaukat Mahmood.
In a statement, she alleged, "The government's such attitude towards a revered and elderly politician of the country [MK Anwar] has demonstrated its utter inhuman and intolerance action. It's nothing but abuse of power."
UNB news agency reported that Khaleda Zia also urged the government to return to the path of democracy shunning its repressive acts and political vengeance.
In a statement, she said her party, if returns to power in the future, would never choose the path of political reprisal and give priority to upholding the spirit of the national unity.
She alleged that the current regime after assuming power through the 5 January unilateral polls has shattered all the democratic institutions only to cling to power.
"The entire nation is under grasp of its misrule."
"We've got disheartened over the sending of 86-year-old veteran popular leader and BNP standing committee member MK Anwar to jail when he surrendered before a court, despite having the bail from the High Court, showing respect for law in a conspiratorial and false case filed in Comilla," she said.
On Tuesday, a Comilla court sent MK Anwar to jail rejecting his bail petition in a case filed in connection with a petrol bomb attack on a bus in Chouddogram upazila on February 3 last.
The BNP chief also strongly protested and condemned the arrest of her adviser and former Jatiya Press Club president Shaukat Mahmood by plainclothes police.
She alleged that the government arrested Shaukat Mahmood to stop his loud voice against its plot to politicise the National Press Club.
Plainclothes police on Tuesday arrested Shawkat Mahmud as he came to join a programme of pro-BNP professionals' electoral platform Adarsha Dhaka Andolan at Samarai Convention Centre.
Khaleda also accused the government of torturing BNP leaders and activists across the country and implicating them in 'false and imaginary cases' as they are protesting the government's undemocratic and fascist activities and pressing it for restoring people's voting rights.
She said the rule of law is being put at stake by sending the BNP men to jails when they surrender before court in "false and fabricated" cases.
MK Anwar and Chandpur district BNP president Sheikh Fariduddin Manik were sent to jail when they surrender before the court hoping to get justice. "We strongly denounce the government's intolerant attitude."
Khaleda warned the government that it is gradually turning into hatred one for its efforts to perpetuate its power by snatching people's voting rights and resorting to repressive cats.
Renewing her demand for a fresh election, she said there is no alternative to an inclusive election under a non-party administration to overcome the current political crisis. "People are aggrieved over the government for not paying heed to our repeated calls (for polls).  The regime is being failed to realise people's hopes and aspirations"
The BNP chief demanded the government release all her parry leaders, including MK Anwar, Shaukat Mahmood and Manik.
She also asked the government not to harass her party leaders in 'false and fabricated' cases.
Source: Prothom Alo