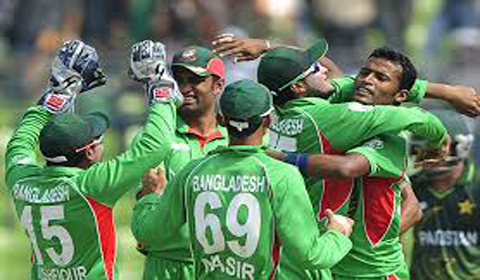 Hosts Bangladesh will take on ICC associate member Nepal on Tuesday in their second Group-A match of the ICC World Twenty20 at Zahur Ahmed Chowdhury Stadium in Chittagong.
The match will begin at 7:30pm.
Earlier, in the opening day of the meet, Bangladesh outplayed first growing ICC associate member Afghanistan by 9 wickets at Sher-e-Bangla National Cricket Stadium in the capital while Nepal beat Hong Kong by 80 runs at Zahur Ahmed Chowdhury Stadium in Chittagong in the other match on Sunday.
The Tigers won three T20 matches — all against ICC associate nations — in a row in the last week, including two worm-ups with UAE and Ireland, but the last victory against Afghanistan was most important from the point of view of staying alive in the World T20.
Bangladesh will need to seal the victory in the tomorrow's second Group-A match against Nepal to ensure a smooth passage to reach the main draw.
On the other hand, for Nepal, this is their first ever international match against a Test-playing nation for which they have worked by all their means for the last 18 years and one can only imagine how much they will be raring to have a crack at the hosts.
On the eve of the match, Bangladesh skipper Mushfiqur Rahim has said he would not like to change around too much as this match could confirm their berth to the next round.
He, however, said Mashrafe Bin Mortaza and Tamim Iqbal will be monitored for their injuries.
While talking about Nepal, experienced and dependable player for Bangladesh, world famed all rounder Shakib Al Hasan said, "I've seen some of their matches on Youtube. But we should think of how we can improve our cricket rather than what they will do. If we can improve, we won't have much of a problem."
Nepal's skipper Paras Khadka, citing their fans to encourage the players, has said, "There'll be some sections of people (cheering us), we had very good crowd support on Sunday, so we will be only hearing the Nepali supporters, not the Bangladeshi supporters."
Bangladesh (Probably): 1 Tamim Iqbal, 2 Anamul Haque, 3 Shakib Al Hasan, 4 Mushfiqur Rahim (captain and wk) 5 Sabbir Rahman, 6 Nasir Hossain, 7 Mahmudullah, 8 Farhad Reza, 9 Mashrafe Bin Mortaza, 10 Abdur Razzak, 11 Al-Amin Hossain.
Nepal (Probably): 1 Sagar Pun, 2 Subash Khakurel (wk), 3 Gyanendra Malla, 4 Paras Khadka (captain), 5 Binod Bhandari, 6 Sharad Vesawkar, 7 Naresh Budayair, 8 Basant Regmi, 9 Shakti Gauchan, 10 Sompal Kami, 11 Jitendra Mukhiya.
Source: UNBConnect