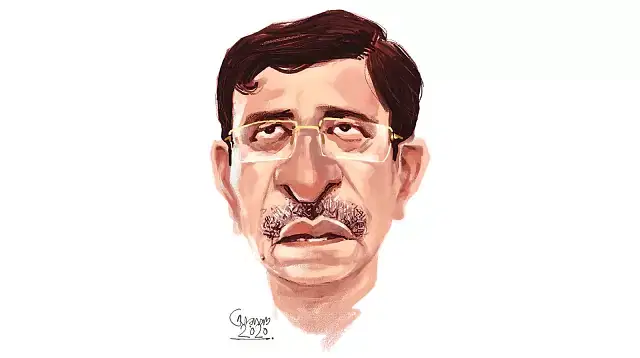 Mahbubul Alam Hanif: My wife is sick. So I had to come.
Correspondent: I read in the newspaper that your elder brother is sick.
Hanif: Yes, my elder brother lives here, members of my family and many of my relatives live in different cities of Canada. My elder brother is sick too.
This correspondent talked to him over in WhatsApp on Wednesday.
Awami League joint general secretary and Member of parliament Mahbubul Alam Hanif was in discussion after his arrival in the North American country amid travel ban of foreign citizens.
He reached Toronto by a Qatar Airways flight on 19 June. Curiosity and questions emerge among Bangladeshis as to how Mahbubul Alam Hanif reached there by this flight. Questions emerge whether Mahbubul Alam Hanif or members of his family are citizens of Canada or permanent residents?
On 16 March, the Canadian government imposed a ban on foreign nationals except from USA.
In the wake of the coronavirus situation improving, the ban was eased for those close to Canadian citizens and permanent residents. The decision was taken to give an opportunity for close family members to unite.
It is learnt that Hanif took this opportunity and reached Canada.
Local sources said Hanif's wife along with two sons live in Bayview Village of North York. The area is known as 'Begum Para'. Hanif visits Toronto every few months and stays with his family there. He is in 14 days quarantine in the house in Bayview Village. There is talk that Hanif has a number of houses in Toronto. Hanif, however, denies this. Local Awami League leaders claim that the house in Bayview is rented.
When asked how he came to Canada amid the travel ban, he said, "What is wrong in travelling if a country resumes international flights. There is no problem to come here. Qatar is operating flights and people are coming by those flights."
Correspondent: There is a ban so that foreigners cannot enter Canada. On prior permission, close relatives of Canadian citizens and permanent residents can enter Canada. Do you fall in that criterion?
Hanif: You can ask Qatar Airways. I think those who do not know, say so. Qatar Airways is operating flights and there is no problem to come here.
Although Mahbub Alm Hanif claims that Qatar Airways is operating flights, Toronto Pearson International Airport provides different information. Senior adviser of communications and stakeholder relations, Robin Smith in an e-mail message said the flight of Qatar Airways was fixed earlier and was a special one. Qatar Airways is not operating regular flights.
While contacted over phone, Canada Border Services Agency (CBSA) declined to say anything about any individual due to the secrecy act.
When contacted through e-mail, CBSA spokesperson Jacqueline Callin on Wednesday said Canadian citizens or permanent residents' parents, dependent children, husband or wife can enter Canada. They have to take prior permission in this regard, Callin added.
Correspondent: Are your sons Canadian citizens or permanent residents? Is your wife?
Hanif: None of my family members nor myself ever applied for immigration to Canada so how we will be citizens or permanent residents?. My sons are studying in university. After completion of masters, they can apply for immigration. However, many of my relatives are Canadian citizens and living here for many years.
Correspondent: How did you come? There is a ban on foreign nationals.
Hanif repeated the earlier answer.
Jacqueline Callin in the e-mail message attached some gazette notifications of the Canadian government.
According to the gazette notifications, Mahbubul Hanif cannot come to Canada at this time if he or his sons or wife are not citizens or permanent residents of Canada. If his wife or sons are citizens or permanent residents, they have to take permission from the Canadian Immigration through application for Hanif to travel to Canada.
According to CBSA's messages sent to different airlines, a passenger should not be allowed to fly unless he or she can show written permission as close members of Canadians.
According to Mahbubul Alam Hanif, his sons are international students.
As per instruction of Canadian government, those who are staying in Canada on work permit or student visa, have no scope to bring members of their family. Hanif is not supposed to get permission to enter Canada if his wife does not have citizenship or permanent residency.
Diplomatic sources in Dhaka said Hanif got single entry visa of five years two years ago to get her daughter's admission in Canadian school. His visa was transformed into multiple one when he applied to meet his daughter during Eid last year.
Sources in Dhaka said Hanif intended to go to Canada by a special flight as his wife is stranded in Canada due to coronavirus. Canadian high commission in Dhaka advised him to go to Canada when the regular flights start.
His sons and daughter as international students applied to the Canadian authorities to meet their father.
According to CBSA, Hanif has no scope to go to Canada in such circumstances.
*This interview, originally published in Prothom Alo print edition, has been written in English, by Rabiul Islam.