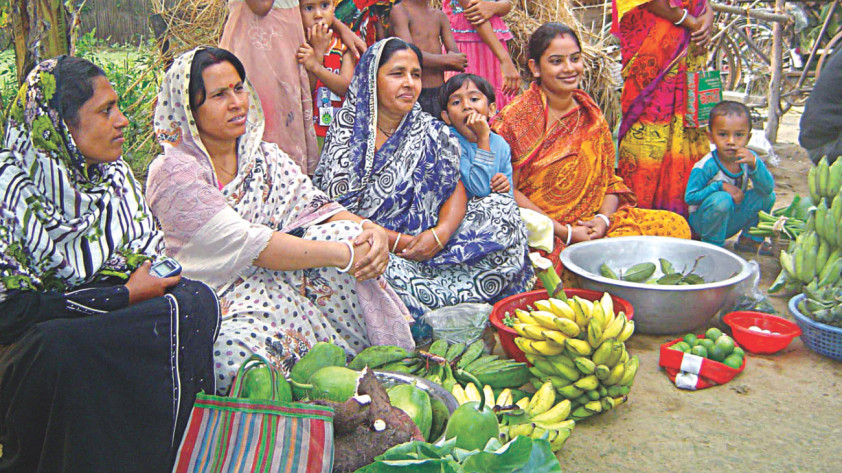 Pesticide-free vegetables have become a rarity, even in rural areas, nowadays. But some 45 female farmers have created new opportunities for three villages in Kaliganj upazila of Jhenidah.
People can buy fresh vegetables at a makeshift market at Balarampur village every Thursday afternoon. Another temporary market Bau Bazar sells the produce every Saturday morning.
Grown using organic compost, vegetables like tomato, bottle gourd, okra and red amaranth are up for sale. There are also pumpkins, brinjals, string beans, ribbed gourds, palwals (patal), drumsticks, green chillies and onions.
One of the farmers is Razia Khatun of Mostabapur. The 42-year-old said women growers are the sellers at the temporary market near the Hunger Free World Complex and that's why it is now known as Bau Bazar (wives' market).
Prices of vegetables are also very reasonable compared to markets elsewhere in the district. One kilogram of tomatoes was sold at Tk 15, a gourd at Tk 20 and a bundle of green spinach at Tk 10 this week.
Customers were quite happy with what they bought.
"Vegetables sold here are grown using organic compost. That's why I do my shopping at this market," said Ali Hossain of Chottosimla village.
Selina Khatun of Balidapara said as the produce is free from pesticides, "the consumers would not get sick".
The unsold produce is sent to the capital for sale through Prakritik Krishi, a local NGO.
THE IDEA
The idea of organic vegetable farming took shape about six months ago when 30 women farmers from three villages under Neyamatpur union in Kaliganj decided to grow safe vegetables for locals.
They were worried that the villagers' health was being harmed by the high usage of pesticides and chemical fertilisers.
After discussing the idea amongst themselves, the women shared it with the local office of Hunger Free World, a Japan-based NGO.
Assisted by the organisation, the farmers started cultivating vegetables using only compost and "balainasok" — a locally-made pesticide.
CHANGING LIVES
Owner of one acre of arable land, Juthi Begum of Mallikpur village said she can now earn around Tk 40,000 a month and run her family smoothly.
Her three children were happy that their financial troubles were over and they can continue WITH their academic studies.
Monowara Begum of Mostabapur has been producing three vegetable crops round the year on her 10 decimal of land.
"I didn't look out for relief materials from the union parishad chairman or other government officials. I am self-reliant now."
At present, around 600 women from three union parishads produce chemical-free vegetables in the area, said Hafizur Rahman, coordinator at the local office Hunger Free World.
Insecticides are dangerous to human and environmental health. They can cause damage to the kidney and the liver of humans, said Altaf Hossain, the upazila health administrator at Kaliganj.
The women farmers' success has made men aware of the harmful effects of pesticides.
Lauding organic farming, Sazedul Haque Liton, chairman Neyamatpur Union Parishad, said the move would encourage more farmers to grow poison-free vegetables.
Growers hoped their success would inspire others to produce safe food without damaging the environment.
Source: The Daily Star