HM Ershad sees a bright future for his Jatiya Party as he claims the people have deserted both the Awami League and the BNP.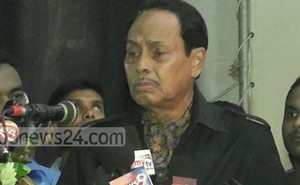 "Jatiya Party is a party of possibilities; party for change. We have huge prospects ahead of us," he told a rally in Rangpur on Saturday.
A mass uprising, led by the Awami League and BNP, forced the former military dictator to demit office in the early 1990s.
Prime minister's Special Envoy Ershad feels the Sheikh Hasina government failed to run the country. The Jatiya Party, which sits in the opposition, is also part of the Awami League-led government.
He said the people were not happy as murders and forced disappearances were daily affairs.
About the BNP, which boycotted the Jan 5 polls, he said the party had lost the people's support.
"They don't have the capacity to start an agitation with the people. Threatening to launch an agitation is the only thing they can do now," the Jatiya Party chief said.
He said the people wanted to live in peace and be freed from the clasp of the Awami League and the BNP.
"And the Jatiya Party wants to establish itself as the main political alternative using this opportunity," an optimistic Ershad said.
Ershad, whose party bagged 40 seats in the last election, said the JP was ready for contesting polls as early as March next year.
"[This time] our target is 151 [parliamentary] seats," he said asking his supporters to prepare for that.
He introduced his nephew and party's Joint Secretary General Hossain Maqbool Shahriar Asif as the party candidate for Rangpur-1 constituency.
"Asif if my son and he is your son too. He was an MP from this constituency before. [You] have to work for him in the ensuing election," Ershad told the rally.
Source: bdnews24