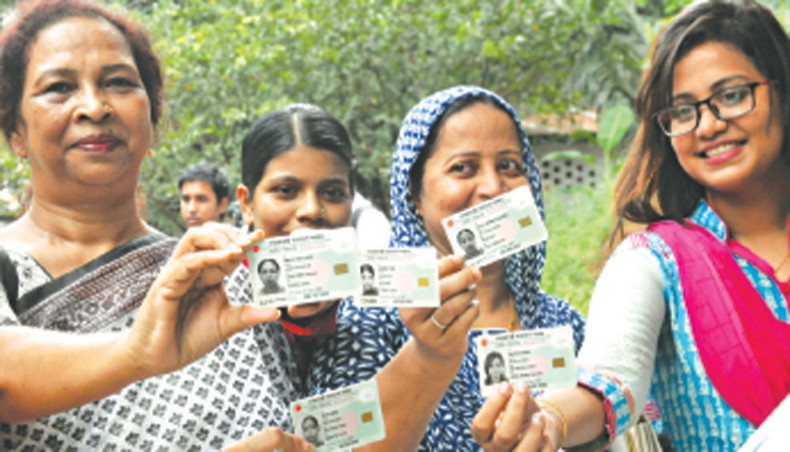 The capital's voters who queued up to receive their smart NID cards from the Election Commission's camps at Uttara and Ramna on Monday were disappointed over mismanagement of the first day's proceedings.
Fingerprint crossmatch device did not work quite often causing delays in delivering the cards and many voters returned empty handed.
EC officials were seen sweating rubbing the fingerprint crossmatch devices with paper napkins.
Most distressing experience was when a daughter returned empty handed but her father got his NID Card replaced at both the camps.
Similarly a wife did not get her smart NID card but her husband did at the Ramna camp.
The first shock awaiting the voters was that it was far from clear who have to be approached to get their NID Cards replaced.
Voters were also not informed who would get their cards and who would not.
Holders' black and white pictures in Smart NID Cards were also shockers.
Even the previous laminated ordinary laminated NID cards bore coloured pictures of the voters.
On the first day, smart NID cards of the capitals voters for ward-19 of Ramna area and ward-1 of Uttara were delivered by the EC.
The voters of Ramna area were asked to collect their cards from the Siddheswari Girls College camp.
The voters of Uttara were asked to collect their cards from the Uttara High School and College camp.
At Siddheswari Girls' College camp, Sammi Akter told New Age that the fingerprint crossmatch device rejected her fingerprints five times requiring her to wait for 20 minutes to get her new NID Card.
At the same camp, Salvana Rashid said EC officials told her that her card was not ready as yet though her father got his card. She found her experience quite puzzling as they live in the same house and were registered at the same time.
She said that EC's data entry operator collected her fingerprints again and the image of the iris in her eyes and told her that her card would be delivered at her home.
At the same camp, Aisa Akter told New Age that she was shocked to find black and white pictures of holders on Smart NID Cards.
Even in the previous laminated cards the pictures of the holders were coloured, she said.
At the same camp, Sohan Lal said that the EC could not deliver his wife's card.
He said he got his card.
Sohan said he and his wife took leave from the apparel factory where they both work.
He said it would be difficult to take leave again to collect his wife's card.
Halim Khan said that he was asked to come on Tuesday when cards of his area would be delivered.
He said the others from his area in Kakrail also returned empty handed.
Similar complaints were made by many voters who came to EC's Uttara camp to get their NID cards replaced.
Senior district election officer for Dhaka Mohammad Shah Alam said no efforts would be spared to avoid recurrence of the first day's mismanagement.
On Monday, smart NID card distribution was inaugurated by chief election commissioner Kazi Rakib Uddin Ahmad at Dashiarchharha,Kurigram.
Until July 31, 2015, Dashiarchharha was a Bangladesh enclave in adverse possession of India.
It is for the first time that the inhabitants of Dashiarchharha became voters.
EC has plans to complete smart NID card distribution in four phases by December, said officials.
source: bdnews24