5th phase UZ polls: 65pc candidates businessmen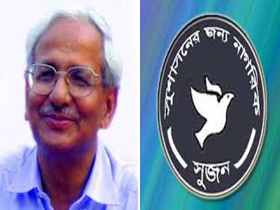 Sushashoner Jonno Nagorik (Sujan), a non-government organisation, on Friday alleged that the Election Commission does not exercise its authority to curb vote rigging and anomalies to ensure a fair election.
Sujan, working on good governance, also alleged that the commission lost its control on overall election procedure.
"The Constitution and laws provide adequate power to the Election Commission for holding a fair election and curbing vote rigging and anomalies. But the commission doesn't apply its power," Sujan Secretary Dr Badiul Alam Majumder told a press conference in the city.
Even patrol by the army, Rab and BGB members in polling stations also fails to help curb election violence, Badiul Alam added.
He said the commission allegedly played a silent role in many cases in the fourth phase upazila elections held on March 23 like it did in the previous three phases.
Alam also called upon the government, political parties and the Election Commission to apply maximum power to make the election system free from controversy and violence.
Sujan organised the press conference at Mukti Bhaban in the city's Purana Paltan area to present statistics it found analysing affidavits of chairman contenders of the fifth phase upazila elections slated for March 31.
Presenting the keynote paper, co-coordinator of Sujan Sanjida Haque Bipasha presented statistics about affidavits of 354 chairman candidates out of 360 in the fifth phase polls in 74 upazila parishads.
Of the 354 chairman contestants, some 65 percent are businessmen, while 17 percent are farmers.
Some 29 percent of the candidates are graduates and 17 percent postgraduates and 22 percent below the SSC.
Among the contenders, 112 aspirants (31.6pc) are currently accused in various cases, including 21 in murder cases under the section 302 of the CrPC.
Eleven candidates and their dependents have wealth worth more than Tk five crore each, while 47 others over Tk one crore each.
The annual incomes of five candidates and their dependents are more than one crore each, while that of 79 contenders and their dependent less than Tk two lakh.
Some 33 percent (116 persons) of the candidates are income taxpayers, while around 17 percent (60 persons) have debts.
Source: UNBConnect