BNP has appealed to the voters to stay away from polling centres claiming that Sunday's elections will be a puppet show.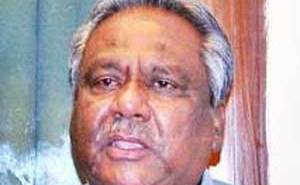 "This election is a puppet show. The people of the country have already rejected it," said Osman Farruq, an advisor to BNP chief Khaleda Zia, at an urgent press briefing on Saturday.
"I want to tell the government that you can still stop this rigged election and prevent yourself from being thrown into the dark chasm of history."
He also said the government would have to take full responsibility for the bizarre situation that had been created by the polls.
He also urged people to refrain from casting their votes in an election arranged by a 'spineless' Election Commission.
"I am asking everyone to raise their voices in unison to say 'no' to this one-sided election and 'yes' to democracy."
When asked why journalists from Indian media houses, NDTV and Ajkal, were not able to meet the BNP chief, Osman Farruq said, "The Opposition Leader is being kept under house arrest. Just go and see. The law enforcers aren't letting anyone inside."
He also claimed that police barred Khaleda Zia from meeting the New York Times journalist.
Osman Farruq held the press briefing at his Gulshan home to brief reporters about the opposition's indefinite blockade and the 48-hour strike that began from Saturday.
He said 300 leaders and activists of the opposition were arrested and hundreds were injured by police and Awami League members across the country on the first day of the 48-hour strike.
Fakhrul's email
BNP spokesperson Mirza Fakhrul Islam Alamgir in an email told media, "This election is a real joke."
In that email sent out on Saturday night he claimed the ruling Awami League was trying to cling on to power by holding on to these elections, which the people have rejected, because the party was politically bankrupt.
He urged all people to stay away from Sunday's elections.
About BNP Chairperson Khaleda Zia, he said, "The offices of BNP and other political parties have been cordoned off and Khaleda Zia, who is leading the people's struggle for democracy, has been confined to her home."
Source: bdnews24