Poor, haphazard drainage system behind water-logging in Dhaka city even after moderate rain; filling up of wetlands aggravates situation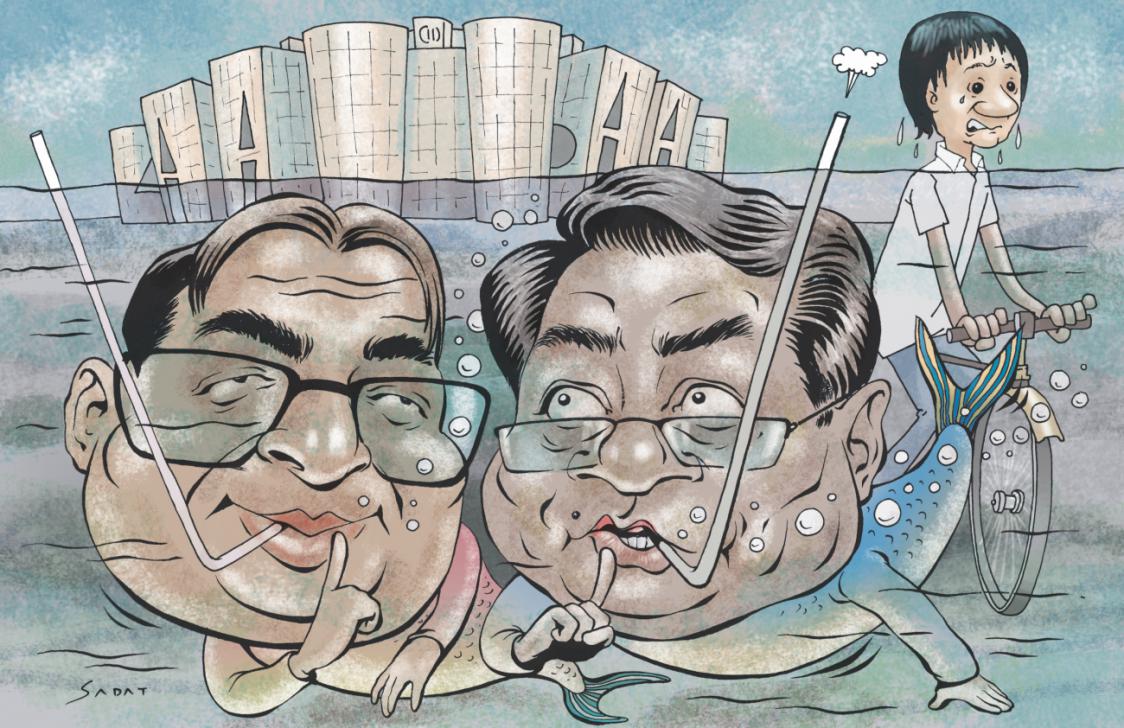 Over a dozen government agencies are involved in maintaining the patchy storm drainage system in the capital. Yet the entire system collapses every time it rains, even when moderately, leaving most parts of the city waterlogged and every aspect of life in complete disarray.
The main reasons for the failure in dealing with waterlogging in the capital are lack of coordination among the authorities concerned, solid wastes clogging up drains, and filling up of canals and other water retention bodies, according to experts and high officials of the agencies responsible for drainage development and maintenance.
A dedicated coordination authority or a single authority to look after the storm drainage system is a must to address waterlogging in the city, said Mayor Sayeed Khokon of Dhaka South City Corporation.
And because of the absence of such an authority, none of the government agencies have the idea of how exactly Dhaka's drainage system functions, said experts.
Only 22 percent of 360 sqkm area of the Water and Sewerage Authority (Wasa) in Dhaka has storm drainage system. So, more than one-fourth of the city area has to depend on narrow open drains and canals for water to recede, which is far from enough.
Then again, solid wastes clog the 320km storm drainage systems.
What's worse is that the Wasa cleans up the drains only once a year, according to SDM Quamrul Alam Chowdhury, deputy managing director of the agency.
There are 65km-long open canals which can serve as major storm water carriers. But they have been awfully constricted by indiscriminate encroachment and waste dumping, said Prof Md Mujibur Rahman of Civil Engineering at Bangladesh University of Engineering Technology.
There are some10-km stretches of different canals which have been turned into box culverts, but they too mostly remain clogged with wastes, he said.
Recovery of designated flood plains and canals can largely rid the city from recurrent waterlogging , said Mujibur, who has worked on Dhaka's drainage system for around three decades.
"We have consistently lost dedicated flood flow zones and water retention areas to powerful real estate developers and the city canals to land grabbers. This has virtually chocked the city's entire storm drainage system.
"The situation will keep worsening unless strong actions are taken … Any farcical show regarding saving the wetlands and canals will not make any difference," he added.
The 2,000km surface drains, maintained by the two city corporations, are supposed to feed the large diameter storm drains. But they remain heavily clogged with solid wastes, said Mayor Annisul Huq of Dhaka North City Corporation.
Even high-tech heavy machineries sometimes prove ineffectual in clearing the congestions, he said.
"I have already instructed all the city councillors to come up with ideas to effectively address the waterlogging problem," said Huq, adding that he was going to take up a Tk 200 crore scheme in November to improve drainage and road condition in Gulshan, Banani and Baridhara within two years.
"Nobody exactly knows how the drainage systems in the capital work, "he said.
Canals, rivers and water retention areas collect, carry and retain rainwater, and are connected with each other as a drainage network.
Waterlogging, caused by rains over the last two days, cripples life in many parts of the capital. In the photo taken yesterday afternoon, a shopkeeper in Jatrabari's Dania is seen under almost knee-deep water waiting for customers. Two other shops nearby are closed. Photo: Palash Khan
But in recent decades, governments have repeatedly ignored warnings from the urban planners against allowing water retention areas and flood flow zones to be ruined for real estate projects, according to Urban Planner Khondaker M Ansar Hossain, who worked as a technical expert on the Detailed Area Plan (DAP) of Dhaka city.
Since the DAP gazette notification in 2010, almost all the conservable wetlands have been filled up with the government's silent approbation, he alleged.
Source: The Daily Star