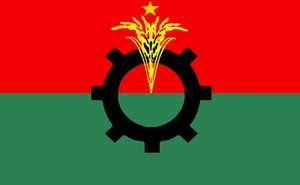 Bangladesh Nationalist Party on Friday feared that the government may suppress the opposition on the pretext of carrying out a crackdown on extremists across the country.
'This (crackdown) is their strategy with which they earlier used to suppress people's movement. We fear they'll again oppress the opposition in the name of conducting a crackdown,' said BNP secretary general Mirza Fakhrul Islam Alamgir.
At a meeting of its high officials on Thursday, the police department decided to launch a weeklong crackdown on militants across the country beginning this morning.
Raising doubts about the motive behind the police drive, Fakhrul said, 'The incidents of crossfire or so-called gunfight marked a sharp rise in the name of a combing operation as nine people have already killed within in a short time.'
The BNP secretary general came up with the remarks while talking to reporters after visiting BNP chairman candidate of Gaibandha's Erendabari union Azizur Rahman at National Institute of Traumatology and Orthopaedic Rehabilitation in the city's Agargaon area, United News of Bangladesh reports.
On June 2, unidentified miscreants shot Azizur Rahman in the legs through a window while he was asleep at home just two days before the polls, leaving him seriously injured. Physicians amputated his left leg two days back.
Fakhrul said the criminals shot Azizur to kill him, but he is alive at the mercy of Allah.  'He's a freedom fighter and very popular in his area. Even after he was shot before the polls, people elected him with huge votes.'
He said the attack on Azizur once again exposed that there is no democracy, rule of law, and public security in the country.
Mentioning that the violence over UP polls has broken all the previous records, the BNP leader said the Election Commission has completely destroyed the country's election system with its incompetence, loyalty to the ruling party and submissive role.
Pointing at the recent target killings, Fakhrul said the government is creating anarchy in the country in a bid to hang onto power.
He also said there is no alternative to holding a national electing under a non-party administration to get rid of the country's current awful situation.
Source: New Age