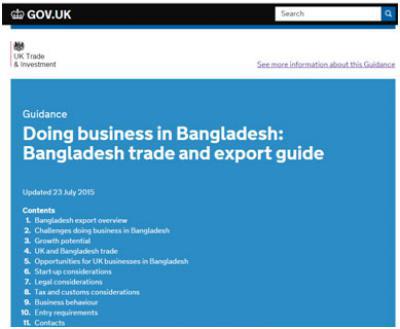 The government of the United Kingdom on Thursday said corruption is the biggest challenge in Bangladesh for doing business though the country has huge business opportunities.
The UK government said this in a guideline titled, 'Doing Business in Bangladesh: Bangladesh Trade and Export Guide', which was published on Thursday.
The guideline for UK companies said, "One of the biggest challenges facing UK companies in Bangladesh is how to avoid paying 'speed money.'"
It said Bangladesh relies more than most developing countries on its human resources. About 20% of the total population (around 29 million people) are students.
It added corruption affects many aspects of daily life in Bangladesh and is often cited as a barrier to private sector development.
It also said Bangladesh is 173rd in the World Bank's ease of doing business ranking 145th in Transparency International's Corruption Perceptions Index.
The Bangladesh market is extremely price sensitive with low price goods from India and China dominating many sectors.
Source: Prothom Alo