A video clip shows that Siddiqur Rahman collapsed to the ground when a policeman shot a teargas canister directly at the agitating college students at Shahbagh on Thursday.
But, four days after the incident, police smell sabotage saying both his eyes cannot be hurt by a teargas shell.
When more than a hundred protesters from seven government colleges demanding exam schedules were marching to Shahbagh intersection, some policemen tried to snatch away their banner.
An unidentified police official, who was at the rear of a band of policemen, ran towards the procession yards ahead and fired a teargas shell at the students at close range.
No one was seen in the footage throwing anything at the law enforcers or damaging any property.
Injured, Siddiqur was lying on the road for about two minutes with blood oozing from his eyes but police did not help him. Some unidentified people came forward and took him to hospital.
Dhaka Metropolitan Police Commissioner Asaduzzaman Mia, after visiting the victim at the National Institute of Ophthalmology yesterday, told reporters, "I have talked to Siddiqur and saw his injury marks. A teargas shell or a projectile cannot injure both eyes at the same time."
He went on, "If a single object had hit him, his forehead or nose would have been damaged. But there is no injury in his forehead or nose. Siddiqur too said he had suffered a single hit and then blacked out. The question is how he was hurt?
"We will investigate how he got the injury. We will also look into whether there was any sabotage from any other quarter."
The DMP commissioner also said they would take action if it is found that policemen were negligent in discharging duties or they were doing excesses.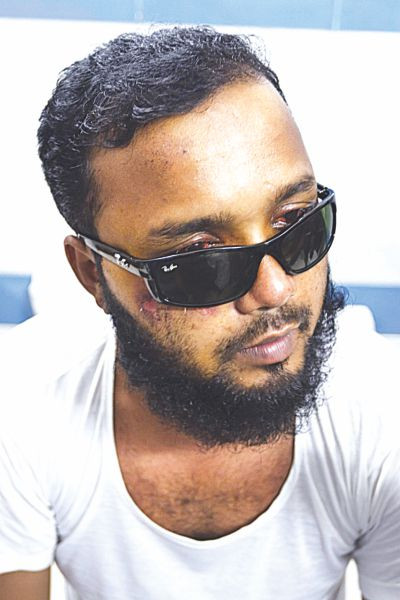 Talking about Thursday's incident, Inspector General of Police Shahidul Hoque said police usually do not lob teargas canisters this way. Teargas shells have to be fired upwards at an angle of 45 degree, reads a report of the DMP News.
"It looked unusual," he said at a programme at Bangladesh Kabadi Federation.
Soon after the incident, police claimed Siddiqur might have been injured being hit by a flowerpot or a brick chip thrown by anyone from the protesters.
But talking to The Daily Star yesterday, Siddiqur said, "There was no chance that I was hit by a flowerpot or a brick chip. How is it possible when I was in the front of the rally, facing the policemen?
"I was only a yard away from police … Police might have fired [teargas shell] at me directly."
He said police were taking away a protester. "I ran to save him. All of a sudden something hit my eyes very hard and I fell down… I passed out," he said lying on the bed of National Institute of Ophthalmology in Agargaon.
Member of a poor family of Tarakanda in Mymensingh, Siddiqur is a third-year political science student at Titumir College.
Currently, he cannot see with his right eye. The left eye responded to light once or twice when doctors removed the bandage on Sunday.
There is still a chance, however slim, that his left eye will recover, but nothing can be said for sure about the other eye, said Dr Iftekhar Md Munir at the hospital.
The physician had earlier said Siddiqur suffered a "blunt" injury in his eyes which were hit by some thick and heavy objects. His eyes and face were swollen due to the injury.
Meanwhile, Awami League General Secretary Obaidul Quader, after visiting the student at the hospital, said, "Siddiqur will be sent abroad for better treatment, if needed."
A health ministry source told The Daily Star that a hospital in Chennai is being contacted. Siddiqur will be taken to the Indian city anytime soon. The process for issuance of his passport is underway.
Quader, also road transport minister, said Prime Minister Sheikh Hasina expressed concern over Siddiqur's condition at yesterday's cabinet meeting.
Thanking the PM, Siddiqur said, "I just want to get back my eyes…"
"I had hope, I still have. I am engaged in some social work. I pray that I can serve people. They have shown their love for me. I will dedicate my life for them till the last day."
He added the protesters on Thursday had no intention to cause violence and they did not do that. "No one threw bricks at police … No one can prove anything like that."
The authorities of seven government colleges — Dhaka College, Eden Mohila College, Government Shaheed Suhrawardy College, Kabi Nazrul Government College, Begum Badrunnesa Government Mohila College, Mirpur Government Bangla College and Government Titumir College — announced the exam dates following the protest.
Police on Thursday night filed a case against around 1,200 unnamed students of the seven colleges on charges of attempting to kill policemen, rioting with lethal weapons and damaging property.
Witnesses and students say the allegations are false. Some onlookers, who witnessed the protest at Shahbagh, saw no brick chips or sticks, let alone any arms, in the hands of the protesters.
The other charges include obstructing police from discharging duties and holding unlawful assembly.
Asked whether the case against the students would be withdrawn, IGP Shahidul said there is no scope for withdrawal of the case. "We will ensure that the case is probed impartially," he added.
Police have formed two committees to investigate the incident.
Source: The Daily Star