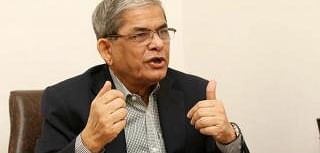 BNP secretary general Mirza Fakhrul Islam Alamgir on Sunday said cases are being filed against journalists, politicians and the general people to silence dissent.
He made the remark at a human chain programme in front of the National Press Club demanding the release of Ruhul Amin Gazi, the president of a faction of Bangladesh Federal Union of Journalists.
Mirza Fakhrul said journalists do not find courage to write. The government has turned all the state machineries into its tools, he added.
Mentioning that the government boosted with a special force, Mirza Fakhrul said human chains, processions and general strikes could not shake the government.
Leader of a faction of journalist and acting convenor of Sammilito Peshajibi Parishad, Shawkat Mahmud, presided over the event.