Khaleda Zia has demanded an early election and warned the government of consequences if it did not do so.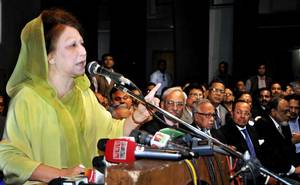 "I tell the government that the people are eagerly waiting for the polls. You will have to pay dearly if you don't listen to (the call) now," said the BNP Chairperson.
She made the demand while addressing a reception of newly elected leaders of Dhaka District Bar Association on Saturday.
Pro-BNP lawyers won most of the executive committee posts including those of the president and the general secretary in the recent election of the association.
Khaleda reiterated her demand for 'fair early polls' during her speech.
"The international community said the people did not vote in the January elections. That election has no credibility. They also are saying about a credible election as soon as possible," said the BNP chief.
Source: bdnews24