Modernising villages and towns can provide new employment opportunites and reduce pressures on large cities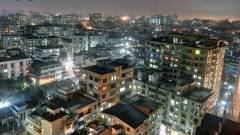 We welcome the plan by the Executive Committee of the National Economic Council (ECNEC) to develop compact townships in rural localities across the country.
Key objectives of the "Palli Janapad" project are to save arable land and improve living standards in farming communities. The project is based on providing funds to construct modern four-storey buildings in seven villages, which are planned to serve as a model for more such developments.
The model includes construction of buildings for agricultural development and fertilizer production, the supply and conservation of clean water, and solar and biogas supplies.
Although the nation is fast urbanising, the majority of people still live in rural communities, so it is important to see more investment go towards improving opportunities in rural areas.
Modernising villages and developing more small towns which are more economically productive and attractive, can go a long way to reducing migratory pressures on the country's large cities. The government needs to think more strategically as well.
In order to make a difference, projects to support rural development need better transportation links and energy supplies across the whole country.
Above all, they need to incorporate new employment opportunities so that fewer people in villages and small towns are forced to move to urban centres.
Having more economically diverse rural zones is a step in the right direction towards having a less centralised Bangladesh. The government should support more initiatives to help the rural economy to flourish and more villages and towns to prosper.
Source: Dhaka Tribune