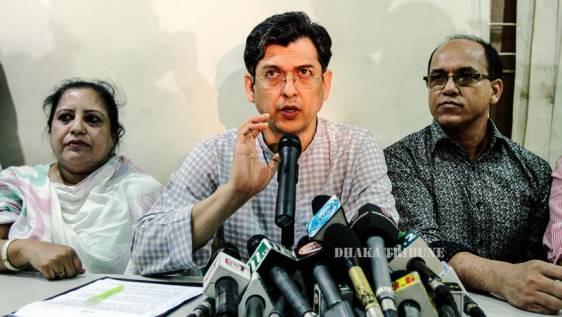 BNP has threatened to continue the ongoing 72-hour hartal and nonstop blockade for an indefinite period if telephone, internet and cable services' connection is not restored to party Chief Khaleda Zia's Gulshan office in Dhaka.
A BNP statement signed by party's Joint Secretary General Salahuddin Ahmed said this on Sunday evening.
Protesting the disconnection of the utility services, BNP called a 72-hour strike starting at 6am Sunday and to continue 6am on Wednesday, despite nationwide secondary school certificate (SSC) examinations in which about 1.5 million students are taking part.
Ahmed, remaining in the hideout, alleged that Sheikh Hasina is leading the country according to her wish instead of democracy.
"The politicised law enforcers were given the license to kill the protesters and prime minister took the responsibility. Despite concerns of all the developed countries including the rights bodies and United Nations Human Rights Commission, United States, United Kingdom and EU, the government has been killing the opposition leaders and activists in a whole sale manner."
The BNP leader alleged that government's agents have been killing people through petrol bombs and shouldering the responsibility to the BNP-led 20-party alliance to stigmatised the people's logical ongoing movement.
"They (AL) turned burn unit of Dhaka Medical College Hospital (DMCH) as the publicity center of Awami League."
He said his party condemned the petrol bomb attack and demanded arrest and trial of the attackers and at the same time also condemned for blaming the opposition leaders and activists for those incidents.
The authorities disconnected the power supply and snapped all kinds of voice and data connections to BNP Chairperson Khaleda Zia's Gulshan political office early Saturday where Khaleda is staying since January 3.
Eighteen hours after disconnecting power supply, the authorities restored electricity to Khaleda's office around 10:30pm on Saturday.
However, all kinds of voice and data connections to the office remained snapped until filing of this report around 7:30pm.
The blockade, which enters day 27 on Sunday, and the associated unrest have so far left at least 40 people dead, hundreds injured and nearly a thousand vehicles firebombed or damaged.
After the arrest of BNP's Joint Secretary General Ruhul Kabir Rizvi o Saturday, another Joint Secretary Salahuddin Ahmed came into the scene and issued the press releases alleging the incumbent government.
Source: Dhaka Tribune