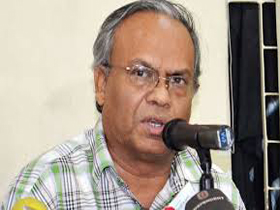 BNP joint secretary general Ruhul Kabir Rizvi on Tuesday said their party is taking all-out preparations for waging a greater political movement to dislodge the current regime.
'We'll take to the streets together with people and force the current autocratic government to quit and hold a fresh election under a non-party caretaker administration," he said.
Rizvi came up with the remarks while addressing a press briefing at BNP's Nayapaltan central office.
The BNP leader came down hard on the ruling party leaders for what he said making indecent remarks against BNP founder Ziaur Rahman, chairperson Khaleda Zia and senior vice chairman Tarique Rahman. "It's now difficult for any gentleman to live in the country the way Awami League is behaving and governing."
He alleged that the government is carrying out false propaganda to hush up its failures and mislead people.
Rizvi also slammed Information Minister Hasanul Haque Inu for his recent remarks against top BNP leaders. "The remarks of Hasanul Haque Inu about Ziaur Rahman, Khaleda Zia and Tarique Rahman suggest that he is working as the family spokesperson of the Prime Minister."
About Wednesday's Thakurgaon Sadar upazila polls, he alleged that the ruling party has completed all the preparations to rig votes and manipulate its results into their party-backed candidates' favour as they did earlier.
BNP joint secretaries general Barkatullah Bulu and Salahuddin Ahmed, assistant office secretaries Abdul Latif Jony and Asadul Karim Shaheen were, among others, present.
Source: UNB Connect