BNP is organising itself for a 'tougher' movement after Eid, party spokesperson Mirza Fakhrul Islam Alamgir has said.
The opposition party, which sat out the national election in January, is also preparing for a fresh election, he said on Saturday.

He was speaking to reporters while visiting the party chief's media wing official Shamsuddin Didar in a Mirpur hospital.

BNP's acting secretary general Fakhrul said their organising committee was being restructured as a part of the reforms.

"Restructuring the committee and organisation is an ongoing process. We are sorting it out and preparing for an election and also for a movement."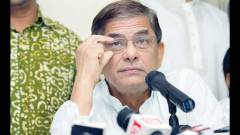 File Photo
Awami League, in government for the second consecutive term, is forcibly holding on to power, claimed Fakhrul. BNP Chairperson Khaleda Zia also hinted that a 'tough' agitation will start after Eid in August.

"This government doesn't have votes, it has forcibly stayed in power. We will get more people and make our movement stronger. Agitation will start after Eid. Movement, election and organisation – we are working on all three," said Fakhrul.

The run up to the 10th national election on Jan 5 was marred by violent strikes and blockades by the BNP-led alliance. Many were killed and injured at that time.

The polling day was marked by blasts, arson and more deaths after the alliance, in a long campaign for votes under a neutral dispensation, vowed to thwart the election process.

Prime Minister Sheikh Hasina recently warned the BNP saying the government will not tolerate any more violence.
Source: Bd news24