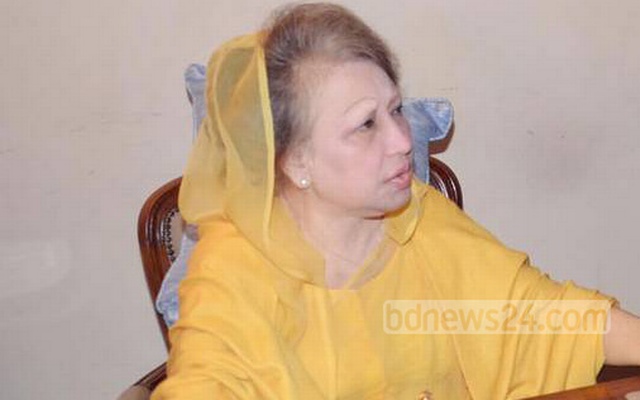 Her statement on Tuesday followed a series of killings by suspected extremists this week which began with the murder of Rajshahi University professor AFM Rezaul Karim Siddiquee on the campus on Saturday.
The head of government can be as loud as she wants but her government will have to take responsibility for all the murders starting from Italian citizen Caesare Tavella to the killings of Xulhaz Mannan and Mahbub Rabbi Tonoy and Rustom Ali Howlader too, she said, pointing to her arch political rival Prime Minister Sheikh Hasina.
"Her attempts at blaming others for theft of reserves or the economy will fail at creating an eyewash for the people."
Xulhaz, an editor of Bangladesh's first LGBT magazine Roopbaan, was hacked to death along with his theatre activist friend Tonoy by multiple attackers who barged into his home at Dhaka's Kalabagan.
Hours earlier, retired prison guard Rustom was shot dead within a few yards of Kashimpur Central Jail by assailants riding a motorcycle.
"The overall situation of the country is more alarming than ever. People are living out their days in petrifying silence," read Khaleda's statement.
Murders, abductions, forced disappearances and extrajudicial killings were plaguing the nation at present, she said.
"The authoritarian government is becoming so careless that it is using state power to silence anyone who makes a sound," the former prime minister commented.
Police are facing flak for failing to make headway into the investigations on secular activists and members of minority groups which shows a pattern involving machete-wielding men who aim for the victims' head and neck to ensure death.
People must also take the responsibility for their own safety because police cannot secure every home, Inspector General of Police (IGP) AKM Shahidul Hoque told reporters while visiting the apartment where the Xulhaz and Tonoy were killed.
Hasina, who heads the Awami League, blamed the BNP and its ally Jamaat-e-Islami for the attacks in a meeting with party leaders at the Ganabhaban on Monday.
"It is in the Awami League's nature to create fiction to serve its purpose. It is a method for covering up the matters and shielding the actual culprits," Khaleda retorted.
Source: Bd news24