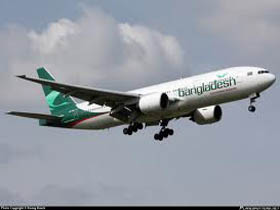 Kevin John Steele said Tuesday he resigned as the chief executive officer of Biman Bangladesh Airlines on medical grounds, insisting he had no dispute with the board.
The resignation of Kevin, the first foreign CEO of the national flag carrier, was accepted by Biman's board on Saturday fuelling media speculations that he had differences with the board in its operation.
In a statement issued on Tuesday, Kevin said there "has been a lot of rumour, misinformation and inaccuracies in the press about his resignation."
In the statement, Kevin said, "Nothing the board has said or done has in any way contributed to my resignation, which is purely on medical grounds."
"I have received full support and encouragement from the Ministry of Civil Aviation and Tourism, especially the …Secretary, as well as the …Minister and the …Prime Minister," he added.
"I have resigned on medical grounds. About 4-5 months ago, after coming to Bangladesh I contracted TB, and also contracted a virus that caused a TIA, which is a mild stroke," said the statement.
"I handed in my resignation in December 2013, giving 4 months notice, and my final departure is on or before April 17, 2014," it added.
Kevin, a British citizen, joined as the Bangladesh Biman Airlines as its 43rd managing director in March last year.
Source: UNBConnect