Bangladesh is comfortable with its economy, Prime Minister Sheikh Hasina has said and promised to make it stronger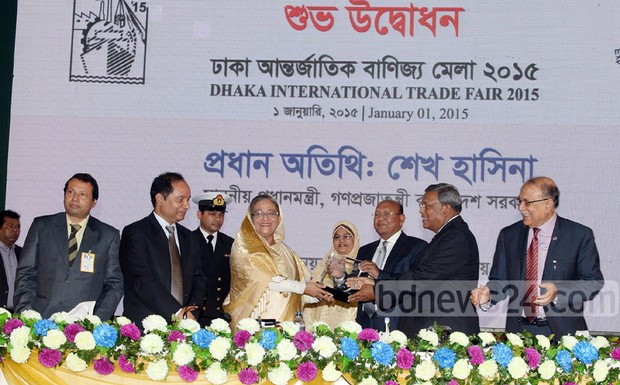 "The activities to pull the poor out of poverty will continue in 2015," she said, while inaugurating the Dhaka International Trade Fair at Bangabandhu International Conference Centre on Thursday.
"We don't want to beg anymore. We want to live honourably, to stand on our own feet," she said.
She called on business to strive to achieve the export target of $ 33.2 billion during the next fiscal year.
Hasina said that the poverty level has come down from 40 percent to 24 percent during the Awami League regime and hoped to bring it down by a further 10 percentage points .
She said the foreign exchange reserve is $ 22.39 billion, which is good enough to pay for imports.
The gold reserves were also growing, she said.
"The comfortable position of the economy is satisfying and things are getting better," the prime minister said, claiming that the inflation was coming down due to development activities of her government.
Hasina urged the Bangladeshi entrepreneurs to export more. "Bangladesh is exporting to 192 countries. We'll have to expand our export basket, create new markets and commodities," she said.
Commerce Minister Tofail Ahmed was present in the inauguration.
Source: bdnews24