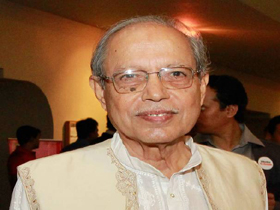 Former president AQM Badruddoza Chowdhury fears Bangladesh may plunge into a civil war if there is no dialogue between bickering political parties to cool down tension.
The Bikalpadhara Bangladesh chief also wants a judicial investigation into the current political violence to identify the perpetrators.
"We're afraid of civil wars," he told a discussion in Dhaka on Friday. "The country is passing through a critical phase."
The BNP-led alliance, which boycotted the 2014 general elections, is enforcing a violent blockade demanding a snap election under a 'neutral' government.
Over 50 people have been killed, mostly in arson attacks, since Jan 5 when BNP chief Khaleda Zia called the blockade.
But it is trading charges with the government over the violence. Khaleda has been accused in several cases as the one who 'instigated' the bloodshed.
"[Bangladesh] will hurtle towards civil war if the situation is not resolved," Chowdhury said.
The former president urged Prime Minister Sheikh Hasina, who leads the ruling Awami League, to make the first move.
He asked Khaleda to prepare for talks.
"The only way to solve this crisis is a dialogue," he said. "…Please try to understand what the people want," the Bikalpadhara chief urged Hasina.
He also announced a daylong hunger strike on Feb 14 demanding a Hasina-Khaleda talks.
Badruddoza criticised a senior minister for dubbing the BNP chief 'stupid'.
"It can't be political language," he said.
Finance Minister AMA Muhith on Wednesday called former prime minister Khaleda a 'stupid leader' who was out "to destroy the country".
"Stupid leader! Her activities are totally against the state… She is out to destroy Bangladesh's future," is what he said of the former prime minister.
Source: Bd news24