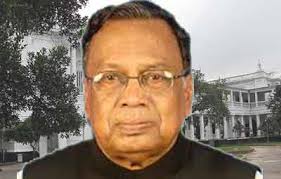 The government will work closely with the new Indian government to take Bangladesh-India relations to a greater height, Foreign Minister AH Mahmood Ali said on Sunday.
"The government looks forward to working closely with the incoming government of India," he said while briefing diplomats of SAARC and ASEAN countries at State guesthouse Padma.
The Foreign Minister congratulated the people of India on a successful election and peaceful transition of power in the world's largest democracy.
He reaffirmed that the government is on track to further intensify the cooperation under the regional and sub-regional mechanism including South Asian Association for Regional Cooperation (SAARC), Bay of Bengal Initiative for Multi-Sectoral Technical and Economic Cooperation (BIMSTEC) and Bangladesh–China–India–Myanmar Forum for Regional Cooperation (BCIM).
He said Dhaka deeply values bilateral relations with its South and South East Asian neighbours and would continue to pursue 'good neighbourliness and regionalism' for grater inter-regional economic cooperation and connectivity.
Ambassadors and High Commissioners from 14 SAARC and ASEAN countries including Afghanistan, Bhutan, Brunei, India, Indonesia, Malaysia, Myanmar, Nepal, Pakistan, Philippines, Singapore, Sri Lanka, Thailand and Vietnam were present.
The diplomats reaffirmed the commitment of their governments to consolidate political and economic relation with Bangladesh both bilaterally and under the regional cooperation framework of SAARC, ASEAN and BIMSTEC.
Prime Minister's Political Affairs Adviser HT Imam, International Affairs Adviser Dr Gowher Rizvi, State Minister for Foreign Affairs Shahriar Alam, Foreign Secretary M Shahidul Huque and other high officials of the ministry were present during the briefing.
Source: UNBConnect