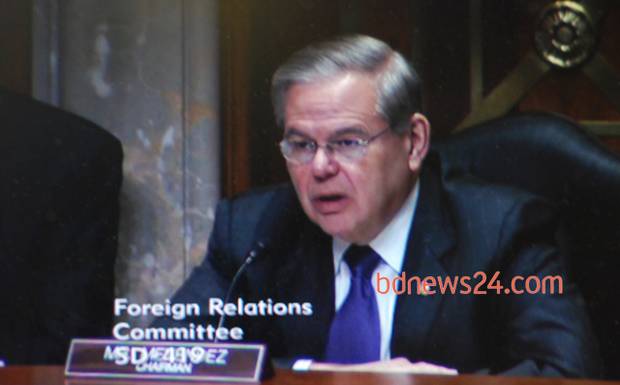 A senior US official at a Senate hearing has warned that the 'flawed' elections of Jan 5 have put 'strategically important' Bangladesh at risk of instability.
"The election did not credibly express the will of the Bangladeshi people," maintained Assistant Secretary of State for South and Central Asian Affairs Nisha Desai Biswal in Washington D.C. on Tuesday.
"This could have serious ramifications for stability in Bangladesh and (South Asia)," she feared during a hearing in the US Senate Committee on Foreign Relations on the current political and economic situation in Bangladesh.
Terming the election 'deeply flawed,' Biswal said over half of all 300 MPs were elected unrivalled and most of the rest faced only token opposition.
"In November, during my first trip to the region as Assistant Secretary, I urged Prime Minister Sheikh Hasina and opposition leader Khaleda Zia to find a credible way forward toward participatory elections."
The BNP has been urging the government for a dialogue, leading to a fresh election since the election that the party along with its allies had sat out.
The ruling Awami League, however, says it will sit only if it parts ways with the Jamaat-e-Islami that had purportedly sparked off violence against Hindus in many parts of Bangladesh and harbours suspected war criminals.
"We also supported the efforts of the United Nations to facilitate dialogue between the parties, which regrettably did not succeed," she said.
UN Assistant Secretary-General for Political Affairs Oscar Fernandez-Taranco in November last visited Bangladesh to broker talks between the BNP and Awami League.
After he had left Bangladesh, both the parties had promised to keep the dialogue on, but that did not happen, resulting in the Election Commission holding the polls.
"Immediately after the election, we issued a strong statement… (calling) for immediate dialogue to agree on new elections as soon as possible," she said.
"Bangladesh is a country of strategic importance to the United States," Biswal said.
"As the seventh-largest country by population and third-largest Muslim-majority nation, its moderate, secular democracy is one that we value and support."
"The United States has not taken sides or played favourites in who should lead the country," Biswal said.
The US position in Bangladesh had, however, been called into question in Oct 2013, when Indian diplomats had suggested they were being pursued to back a certain party in Bangladesh.
"That decision should be left to the Bangladeshi people, whose voices were not fairly heard on January 5," she said.
Biswal expressed hope that Bangladesh's leaders would take the right steps to support democratic values.
"We hope that Bangladesh's political and economic leaders will take the right steps to support democratic values, foreign direct investment, and a growing economy. Bangladesh has come too far and has too much to lose," she said.
Biswal further observed in her statement that Bangladesh was at a critical juncture.
She said with an annual growth rate of about six percent, Bangladesh was an economic success story, an increasingly important trading partner and destination for US investment.
"The United States is the biggest investor in Bangladesh and the largest single country destination for Bangladeshi apparel, the country's largest export."
Noting the political violence posed the greatest threat to the Bangladeshi people, she said, "It not only puts ordinary people at daily risk of harm, but it also paralyzes the economy, threatening to undo the country's achievements in development."
"Bangladesh's turmoil has created uncertainty with foreign investors and impacted economic growth."
Biswal called upon Bangladesh's leadership to provide space that enables peaceful expression of political views.
"At the same time, we call upon the opposition to use such space responsibly," she said.
"In closing, I want to publicly thank Ambassador (in Dhaka Dan) Mozena and his team for their relentless efforts to promote democracy and improve labour conditions in Bangladesh," she concluded.
Eric Biel, the acting associate deputy undersecretary for international affairs, Bureau of International Labour Affairs, Ellen Tauscher, the chairman of the Alliance for Bangladesh Worker Safety and Kalpona Akter, the executive director of Bangladesh Centre for Worker Solidarity, among others, also took part in the hearing.
Democratic Senator Robert Menendez presided over the hearing.
Source: Bd news24