By SYED ZAIN AL-MAHMOOD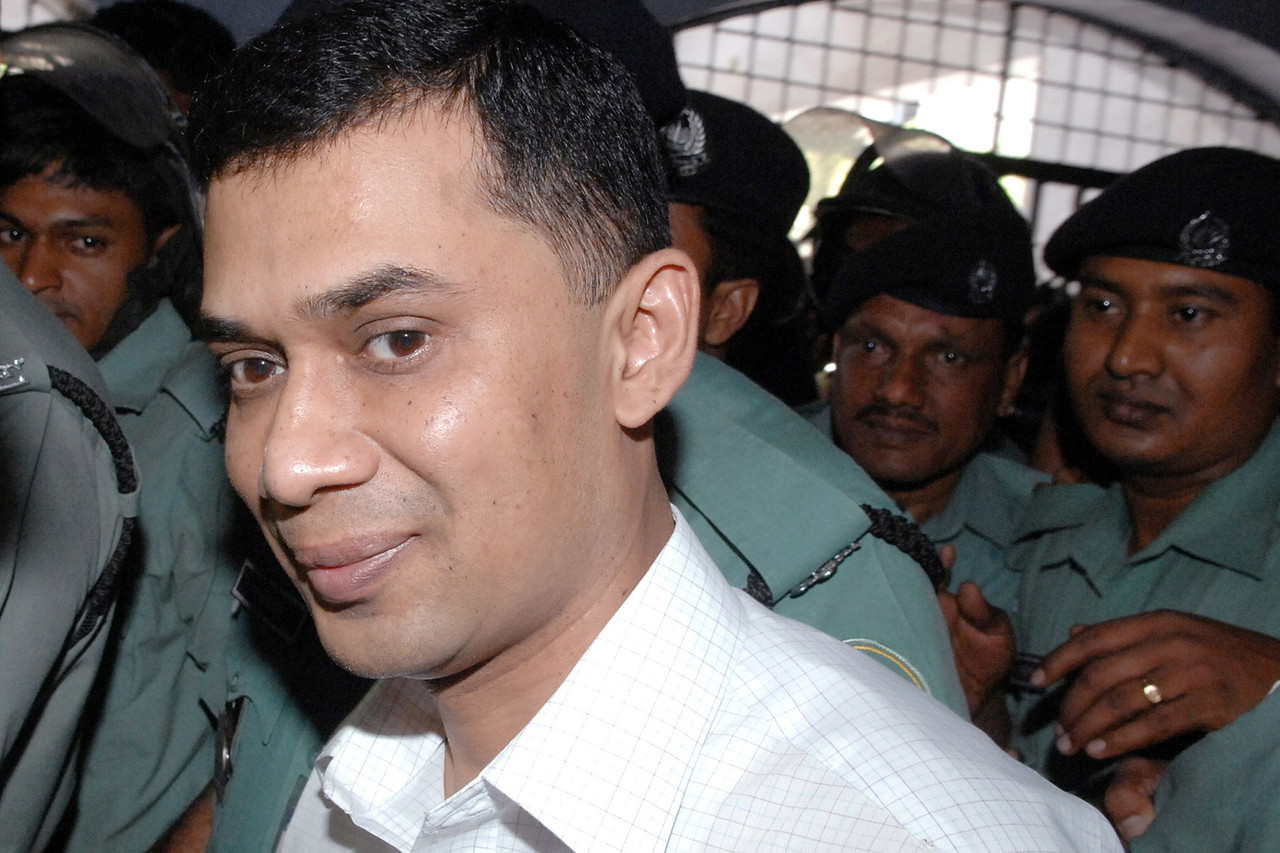 DHAKA, Bangladesh—Bangladeshi prosecutors filed sedition charges against an opposition leader and the owner of a local television channel on Monday as nationwide clashes between the government's supporters and its political foes stretched into a second week, taking a toll on the country's economy.
The unrest started Jan. 5, when the police banned an opposition rally, arrested key opposition figures and locked the leader of the main opposition Bangladesh Nationalist Party, Khaleda Zia, in her office. The opposition responded by trying to block road, rail and river transport around the country.
At least seven people have been killed and dozens injured in three-way clashes between the police, ruling-party activists and opposition supporters, according to police and human-rights groups.
On Monday, prosecutors filed sedition charges against Ms. Zia's son, Tarique Rahman, who is her party's senior vice chairman and lives in London. They also brought sedition charges against Abdus Salam, owner of private television channel ETV. The channel was blacked out after broadcasting a speech by Mr. Rahman.
"Tarique Rahman's statements have harmed the image of the government and the state. The ETV chairman is also guilty of sedition for allowing these comments to be broadcast on his channel," said Abdullah Abu, one of the prosecutors.
Mosleh Uddin Jasim, a lawyer for Mr. Salam of ETV, called the sedition charge "baseless and outrageous." Mr. Rahman wasn't represented by counsel at Monday's court hearing. He has in the past accused the government of pursuing a political vendetta against him.
Leaders of the Bangladesh Garment Manufacturers and Exporters Association, a trade body representing the country's garment sector, which exports clothes worth more than $24 billion a year and employs 4 million workers, said the blockade was costing the sector about $90 million a day.
"We are in a crisis because foreign buyers will turn away if we can't guarantee the safety of life and property," Atiqul Islam, the association's president, said at a press conference.
In a separate statement, the Federation of Bangladesh Chambers of Commerce and Industry, another business group, called for urgent talks between the ruling party and the opposition to resolve the political standoff.
Prime Minister Sheikh Hasina's Awami League swept parliamentary elections in January 2014, amid an opposition boycott. The country's parliament has functioned without an effective opposition since then.
Political uncertainty has hit the country's exports, with export growth slowing to just over 1% in the June to December period, compared with over 18% during the same period in 2013. Experts fear export volumes could plummet if the current turmoil continues, with opposition activists targeting trucks, buses and trains.
There was little sign of political compromise on Monday, as the ruling Awami League held a rally at the same venue in central Dhaka where the BNP had been denied permission to march on Jan. 5. Ruling party leaders ruled out "any compromise" with the opposition.
Labeling the opposition "militants and terrorists," Ms. Hasina said the government would do everything in its power to maintain security. "Khaleda Zia can stop [her agitation and] go home any time she wants," Ms. Hasina said at the rally, referring to her political rival.
Ms. Zia, herself a former prime minister, spent a ninth day confined to her office in Dhaka's Gulshan neighborhood Monday. Police maintained a security cordon around the compound and at least seven trucks loaded with sand and bricks blocked the road.
The government has repeatedly denied placing Ms. Zia under house arrest, claiming it had provided "enhanced security" at her own request. The opposition says the police are unlawfully detaining Ms. Zia.
Ruhul Kabir Rizvi, a BNP spokesman said, "The Awami League must stop putting up smokescreens and start a dialogue toward a free, fair and inclusive election."
Source; WSJ