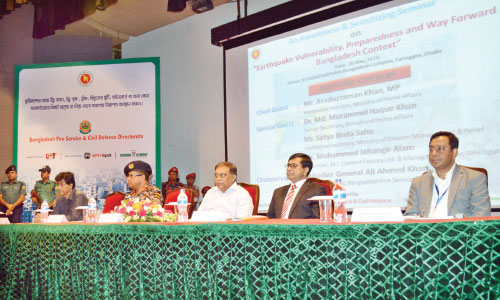 Bangladesh is at high risk of a major earthquake, but the country lacks preparedness in the sectors where it is really possible to minimise casualties and damage, observed government officials, academics and professionals on Saturday at a seminar in the capital.
The country lacks dedicated communication system for disaster-time, auto-shutdown system of major utilities like gas and water, adequate open spaces for temporary shelters for huge affected victims and adequate community volunteers, they pointed out at the seminar titled 'Earthquake vulnerability and way forward: Bangladesh context'.
Fire Service and Civil Defence organised the function at Krishibid Institution Bangladesh, in which home minister Asaduzzaman Khan, academics of Dhaka University, Bangladesh University of Engineering and Technology and professionals from ministry of disaster management and other government agencies and Japan International Cooperation Agency took part.
Home ministry senior secretary Mozammel Haque Khan said there were around 67 laws, acts and guidelines in Bangladesh for disaster management, but the laws were hardly exercised due to indifference of different agencies.
Dhaka University earth and environment faculty dean SM Maksud Kamal said an earthquake of 8 to 9 magnitudes was imminent from any of the five seismic faults in and around Bangladesh.
The earthquake would badly hit the capital, risking around 1.6 lakh families in the densely populated capital of around 20 million people, he said.
JICA's Bangladesh representative Koichi Kitamura said a 7.5 magnitude earthquake would kill around 88,000 people in Dhaka, completely damage around 72,000 buildings and 1.58 lakh families would be homeless.
Fire Service director general Ali Ahmed Khan said the conventional communication system would fail during major earthquake when rescuers would be in dark about command and coordination.
He proposed setting up a communication system of dedicated frequency as used by the Armed Forces.
He said the Fire Service had ongoing activities to train community-based volunteers but the volunteers were not being harmonized as there was not sustainable mechanism and incentives for the volunteers.
BUET's civil engineering professor Mehedy Ansary said most buildings in Bangladesh did not follow building code as they had less than 2,000 PSI (pounds per square inch) strength against the requirements of 3,500 PSI.
The new culture of multi-storey building having car-parking on the ground floor would increase earthquake casualties, he warned.
Inaugurating the seminar, home minister Asaduzzaman Khan said the country was 'getting ready to face possible risks of disaster'.
He said there was a plan to set up one fire station at each upazila across the country.
Source: bdnew24