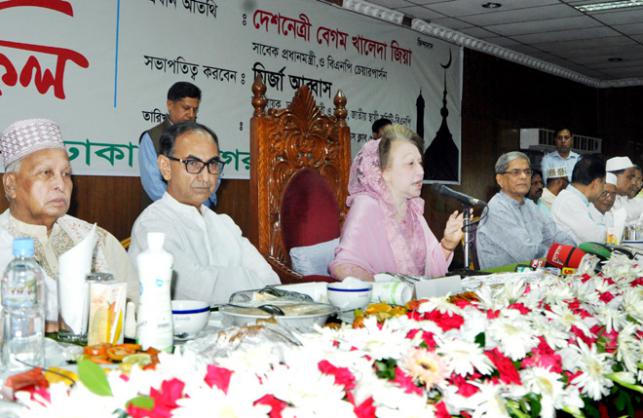 Accusing the government of failing to arrest the perpetrators of recent secret killings BNP chairperson Khaleda Zia on Tuesday said her party is ready to assist it in rounding up the real offenders.
"We would like to request the government to stop arresting innocent people. Arrest the real offenders (those behind the secret killings). We want to help you in this regard. Shun arresting innocent people unlawfully and torture on them," she said.
BNP chief was addressing an iftar programme arranged by Dhaka city unit BNP at the city's Ladies' Club.
Khaleda alleged that the government did not arrest any of the real offenders behind the secret killings, including those of foreigners, as the perpetrators are either the ruling party men or its supporters. "Instead, it arrested innocent people, including 3,000 leaders and activists of BNP and other opposition parties in the name of a combing operation as an eyewash."
She said law enforcers have engaged in a 'brisk business' of arrest in this holy month through intimidating people into torturing them by implicating in 'false' cases.
Khaleda alleged that the government has made BNP leaders and activists its target to destroy the party. "Hasina (PM) thinks her power will be cemented and permanent if BNP can be eliminated. But, the country's people are always in support of democracy."
The BNP chief alleged that there is no democracy, good governance, the rule of law, justice and public security now in the country. "No one is now safe as anything bad can happen anytime."
Though the country's people have no security of their lives and property, she said, all are concerned over the security of an 'unelected and self-claimed prime minister.
"Even, Azan is not being allowed now through loudhailers for Hasina's security. This is the scenario of the country. Where're we now taking our country to?"
Khaleda asked her archenemy Hasina to explain for which reason they are obstructing Azan through loudhailers.
"Security is the reason or there is any other motive! Whether there's any order [from outside the country] that there'll Azan inside mosque without loudhailers in Bangladesh."
However, the BNP chief did not make it clear as to where Azan is not being allowed through loudhailers for prime minster Sheikh Hasina's security.
Khaleda alleged it is not only Muslims, but also the people of other religions, including Hindus, are being oppressed by the ruling party men.
Mentioning that the Hindu community members a few days back raised their voice against the damage of their temples and grabbing of their houses and lands, she said the Hindus, including their daughters, are being regularly oppressed by Chhatra League activists.
"Chhatra League has been indulging in grabbing, extortion, repression across the country. But no action is taken against them."
Khaleda said the people of the country will not get rid of repressive acts and widespread plundering and they will not get justice as long as Sheikh Hasina is in power.
She urged the leaders and activists of Dhaka city unit to get united and strengthen their organisation to restore people's rights.
Source: Prothom Alo