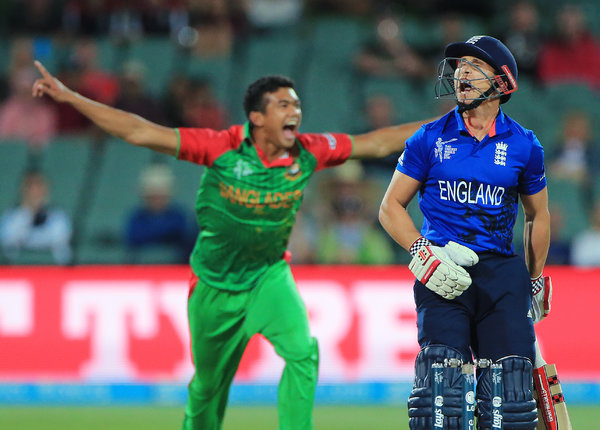 The first of cricket's traditional powers is gone from the World Cup with the demise of England, and a second may follow before the playoffs begins next week.
England fell Monday when it lost by 15 runs to Bangladesh at the Adelaide Oval in Australia. The result finished off qualifying from Pool A, with both Bangladesh and Sri Lanka advancing to join the two co-hosts, Australia and New Zealand, in the final eight.
West Indies and Pakistan are in jeopardy in the other bracket, but their fate, along with that of the chronic overachiever Ireland, will not be clear until the final matches are played Sunday in Pool B.
It is debatable whether England's elimination can truly be regarded as a shock, after its abysmal form earlier in the pool stage led to huge losses to Australia, New Zealand and Sri Lanka. It is the third time England has failed to progress in five World Cups.
Bangladesh traditionally is among the weakest of the 10 nations that have full Test-playing status. England's elimination with one match to go, against Afghanistan, could have serious implications for the new management put in place after the team was swept in the Ashes series in Australia early last year.
"You just feel hollow," England Coach Peter Moores told reporters. "We haven't played well enough and we have to accept that. I can't stand and say I'm making a difference, when we've just been knocked out of the World Cup."
Moores admitted his future was out of his hands.
"I've got full faith in Peter Moores. He will stay," said Paul Downton, the managing director of the England and Wales Cricket Board, who may himself come under pressure. "Everything will be reviewed. Now's not the time to be doing it. We've got one more game to play. Let the dust settle. Everyone's very emotional."
England's captain, Eoin Morgan, will also be in the line of fire. He was appointed only a few weeks ago when his predecessor, Alastair Cook, was axed.
"I'm gutted at the moment," Morgan told reporters. His dismissal for 0 on Monday was his fifth scoreless innings in 11 international matches. "There'll be an inquest over the next few weeks as to what happened and what went wrong."
There will be numerous voices ready to offer an opinion on that issue.
"We got to the first game and we didn't know our best side. We didn't know what strategy we were going to adapt," said the former England captain Andrew Strauss on Sky Sports. Strauss argued that England had been caught out by the aggressive, high-scoring approach that many teams are taking at the World Cup. "England have been stuck behind and are almost going in the opposite direction. Every game we've seen the same mistakes."
"Eng had the wrong team, the wrong style of play & everyone could see it," the former Australia spin bowler Shane Warne said on Twitter. Warne is an ally and former teammate of Kevin Pietersen, the high-profile batsman dropped by England last year after the Ashes loss. Colin Graves, the newly elected chairman of the E.C.B., suggested last week that the door might not be forever closed to Pietersen.
The trouble is that the South Africa-born batsman has spent the year since he was dropped doing everything but scoring the runs needed to convince his detractors that he is worth another look. Instead, he has written a score-settling autobiography and shown on social media why he is such a divisive figure. He will also be 35 in June.
England's batting was not the worst of its problems. Young batsmen like Joe Root, James Taylor, Jos Buttler and Moeen Ali all had their moments during the tournament. But England's two most experienced bowlers, James Anderson and Stuart Broad, took only seven wickets between them in the five matches, while conceding 463 runs at a cost of nearly six runs per over.
"They haven't bowled well enough. That's pretty open and honest," Jason Gillespie, the coach of current English county champions Yorkshire, told Sky Sports.
He said of the English bowlers, "They haven't been able to take enough wickets or reduce the scoring rate. That's an area for them to work on."
Gillespie, a former Australia fast bowler, could be a candidate if Moores is fired.
Bangladesh deserved to win after it fought back from a poor start to outplay England in a tense finish. Bangladesh's biggest star, Shakib al-Hasan, for once contributed very little, but less celebrated performers like Mahmudullah, who scored 103, and the quick bowler Rubel Hussain, who took four wickets, stepped up.
Bangladesh's likeliest quarterfinal opponent is the reigning champion India, which has won all five of its matches, beating Ireland on Tuesday. India was also the firm favorite in 2007, when the two met in the World Cup in the West Indies, but it was Bangladesh that progressed.
Source: NYTimes