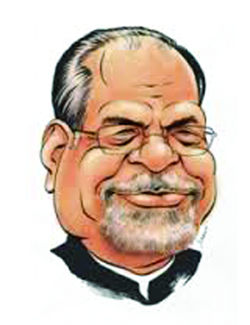 Prime Minister Sheikh Hasina on her return  home,  has  finally  assured  that  Posts ,  Telecommunications  and  ICT  Minister Abdul Latif Siddique will be expelled from Awami League for making controversial comments on Hajj.
The prime minister made the disclosure while talking to the party members at the VIP lounge of Osmani International Airport in Sylhet on  her  arrival   from  London  Thursday morning.
Earlier  on Wednesday,    Awami League Joint General Secretary Mahbub-ul-Alam Hanif claimed  that   Minister Abdul Latif Siddique has been removed from the cabinet.
The decision was made amid continued protests across the country against Siddique's audacious comments on Hajj, Tablighi Jamaat and the prime minister's son, Sajeeb Wazed Joy, he said.
Meanwhile,  ten  cases  have  been filed  against  Minister Abdul latif Siddiqui for his  offensive  comments  about  Haj  and  Tablig Jamaat  that seriously   hurt  Muslim sentiments.
Of  those,   four  have  been filed   in Dhaka  three in Chittagong  and  one  in  Sylhet.
Meanwhile,  different  Islamic  groups  including  Hefajote Islam  took  to  the  streets  and  announced  protest  programmes  throughout  the country  to condemn  Latif Siddiqui. They  continued  to  demonstrate  demanding  Latif Siddiqui's   arrest  and  punishment  for  hurting  the  religious  sentiments  of  the  Muslim community.
Latif Siddiqui, now in the USA, at a reception arranged by expatriates from Tangail living in New York on Sunday evening reportedly said he is deadly against hajj and Tablig Jamaat.
According to video clips available on different websites he said: "Hajj is just waste of manpower… those who perform hajj don't have any productivity. They deduct from the economy, spending a lot of money abroad."
However, BNP-led 20-party alliance on Wednesday alleged that the government is trying to create smokescreen over its stand on Abdul Latif Siddiqui to escape public wrath
Briefing the media  about the decisions of a meeting of the top leaders of the 20-party alliance held on Tuesday night at the BNP chairperson's Gulshan office,  Fakhrul said the 20-party meeting strongly condemned Latif Siddiqui's remarks over Prophet Mohammad (pbuh) and the holy hajj, one of the five basic pillars of Islam, and Tabligh Jamaat.
Terming the remarks highly derogatory and quite unimaginable, the 20- party leaders said Latif Siddiqui has seriously hurt the religious sentiments and belief of crores of Muslim across the world.
They also demanded that the minister be arrested and meted out exemplary punishment after removing him from the cabinet and parliament.
Fakhrul said the 20-party did not announce any programme to protest against Latif Siddiqui's anti-Islam comments due to the ongoing Durga Puja and the upcoming Eid. He, however, said the 20-party will be forced to announce protest programme if the government does not take immediate action against Latif Siddiqui.
Source: Weekly Holiday