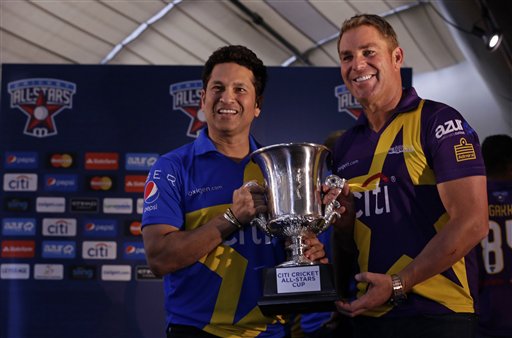 Former Bangladesh Test captain has expressed disappointment for not being approached for the Cricket All-Stars series and criticised Sachin Tendulkar and Shane Warne – brains behind the T20 series for veterans – for disrespecting Bangladesh cricket.
Tendulkar and Warne have invited a number of retired cricketers from around the world to participate in their brain-child Cricket All-Stars Twenty20 series that includes three matches in three different cities of the United States of America. First match of the series was played in New York last night where Warne's Warriors beat Sachin's Blasters by 6 wickets in front of a packed Citi Field stadium.
The 30 cricketers who have been picked for the event come from India, Pakistan, Sri Lanka, Australia, South Africa , England, New Zealand and West Indies. But no former cricketer was picked from Bangladesh and Zimbabwe – two Test playing nations who were devoid of any representation in the newly launched tournament.
Former Bangladesh Test captain, Naimur Rahman, who is also the current Bangladesh Cricket Board (BCB) Director feels that Tendulkar and Warne have disrespected Bangladesh by not picking any player from the nation.
"By not selecting any player from our country for the All-Stars matches, Sachin Tendulkar and Shane Warne have not shown respect to our cricket," Rahman was quoted as saying by The Asian Age.
Bangladesh, which is the newest team among all the Test playing nations, haven't yet produced legends like Tendulkar, Lara, Warne or Akram. Some of their best players who have done well at the international circuit so far can best be termed as good but certainly not great.
"We may not have produced Sachin Tendulkar or Brian Lara but have good players like Habibul Bashar, Khaled Mahmud, Akram Khan and Khaled Mashud. These are few of the great players our country has produced and few of them could have easily found place in the series," Rahman opined.
But, one can't help but disagree with Rahman's observation as the players who are part of the All-Stars series are some of crickets greatest players including Curtly Ambrose, Saqlain Mushtaq, Allan Donald and Muttiah Muralitharan among others.
All these players are a brand in themselves and need no introduction even outside their respective countries. While the players Rahman have listed will need a long introduction even in their neighbouring countries.
With such an array of stars, some big players such as Glen McGrath and Saqlain Mushtaq had to sit out of the starting eleven in the first T20. Rahman, however, feels that it was not a problem had their players being picked and not played in the series, but there should have been some representation from the country.
"We would not have been bothered if our player was not in the playing XI but at least they could have been in the team," added Rahman.
The second T20 match is set to be played at Minute Maid Park in Houston on 11 November.
Source: abplive.in