Rab officials sweeping the flat of a militant suspect in the capital's Darus Salam found remains of seven people yesterday, a day after the suspect allegedly detonated bombs there causing a blaze.
The suspect holed up there caused the explosions beginning at 9:50pm Tuesday, killing himself, his two wives and two children and possibly two of his employees, said Director General of Rapid Action Battalion (Rab) Benazir Ahmed.
"We so far found seven skulls and the bodies were burnt to ashes. Bones were seen scattered here and there," he said while briefing reporters on the spot yesterday afternoon.
Rab officials identified five of the dead as Abdullah, son of late Yousuf Ali of Chuadanga, Abdullah's wives Fatema and Nasrin and sons Osama and Omar.
The Rab officials said they were collecting evidence, including DNA samples.
Rab cordoned off the six-storey "Kamal Probha" since 12:40am on Tuesday. The Rab officials said they had repeatedly asked the militant to surrender and gave him time until 8:00pm. But he wanted another half an hour, they said.
At 9:50pm, several explosions rocked Abdullah's rented flat on the fourth floor of "Kamal Probha", ending the stand off that began at 4:00am.
Rab had earlier claimed to have evacuated the people in all the other flats but a tenant of a fourth floor flat Rubina Begum yesterday said she along with her two daughters stayed until 11:00pm Tuesday.
"I did not hear anyone asking Abdullah and his family to surrender. I heard some sounds of explosions and gunshots," Rubina told The Daily Star yesterday afternoon.
Her 15-year-old daughter echoed the same.
Rubina said her 10-year-old daughter was mentally challenged and now she is traumatised.
Motiur Rahman, muazzin of a local mosque, said Abdullah used to offer Zuhr and Asr prayers once or twice a week. "After the prayers, he used to preach to some locals citing from the mosque's hadith book 'Fazale Amal', a book widely used by Tabligue Jamaat followers," he added.
The Rab DG yesterday said Abdullah was an Al Ansar (helper) of Jama'atul Mujahideen Bangladesh (JMB). He used to provide shelter and food to members of the banned outfit and collect funds for it.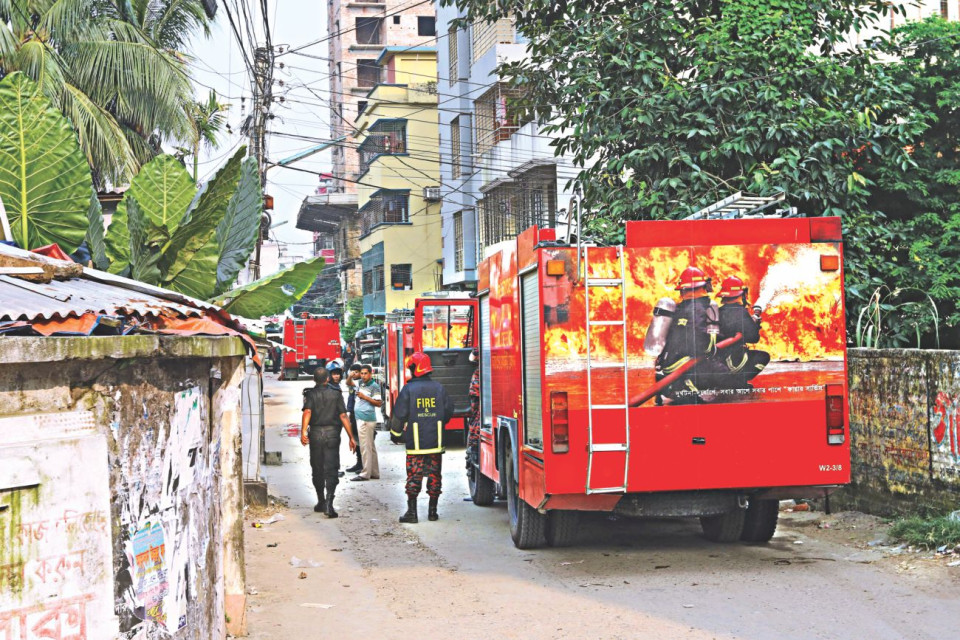 Slain militant leaders Sarwar Jahan, Gulshan café attack chief coordinator Tamim Chowdhury, arrested JMB leader Sohel Mahfuz and many other JMB leaders spent nights at the flat, the Rab DG claimed.
He also said Abdullah had used his house as a training centre for militants.
Abdullah got involved in militancy in 2005. He joined a new faction of JMB in 2012 which Sarwar had formed, said Benazir.
One of the members of [Majilsh-e] Sura committee of the offshoot last year disclosed Abdullah's name and Rab had been looking for him since then.
Refusing to disclose the Sura member's name, the Rab DG only said he was in jail.
"We tried to save the innocent children and women but the children of the militants are not safe from violent [Khuni] mentality of the militants," Benazir said.
Since the explosives were composites of acid and other materials, the blasts were strong, said the Rab chief.
He said an explosion left a two-square-feet hole in the floor of one of the rooms in the flat and caused a fire in the flat underneath.
The explosion was so strong that rubbles and fragments of window glasses were found 500 metres away.
Rab said Abdullah earlier told them that he had 50 improvised explosive devices (IEDs) in his possession. Most of them were exploded on Tuesday.
Rab found a few unexploded ones and two barrels of petrol.
Benazir in his briefing also said the temperature in the rooms of fourth floor flat was very high, still between 55 and 60 degree Celsius.
It was quite impossible to stay for more than two minutes, he said.
He said they could not spray water inside as evidence could get compromised.
The third and fourth floors of the building were seriously damaged and engineers would decide if it was habitable, he added.
At 6:30pm yesterday, Rab and fire service personnel suspended their work until morning today.
A man in his 30s, Abdullah used to rear pigeons at home and was involved in refrigerator repairs and building and supplying IPS and UPS to shops. He had been a resident of the area for the last 10 to 12 years, locals and other sources said.
Many of his pigeons were killed in the explosions and subsequent fire.
Wishing anonymity, a CTTC official on Tuesday said, "We had information about Abdullah, but we never raided his house as he had severed his ties with JMB.
Source: The Daily Star