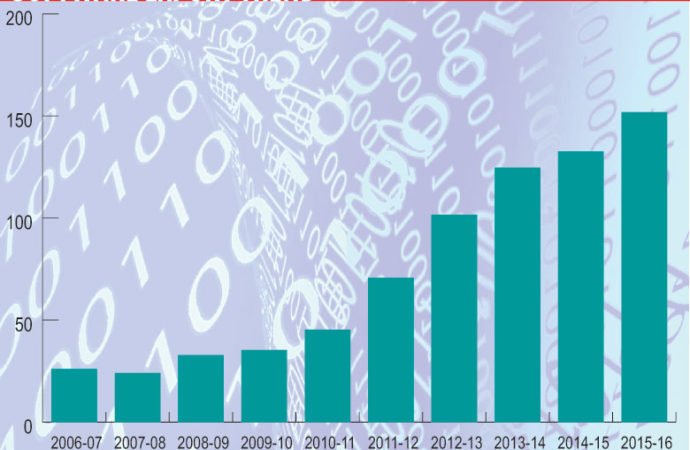 Bangladesh's software exports have seen over 14.50% rise to nearly $152 million in the last fiscal year compared to the same period in the previous year
The export performance, however, is bellow the expectation of sector people as well as the government target of earning $5 billion by 2021.
According to the Export Promotion Bureau (EPB) data, in the last fiscal year, Bangladesh earned $151.83 million, a 14.55% up over $132.554 million a year ago.
The figure is 4.71% higher against the target of $145 million for the period.
"Bangladesh's IT sector laid its foundation of software export in 2009 and 14.55% growth is laudable," BASIS president Mustafa Jabbar told the Dhaka Tribune.
"We have to move forward, but branding for the sector is very poor. Bangladesh has to show its potential and capacity."
The growth is lower than the government target of $5 billion export earnings from software and IT-related services export, said Shamim Ahsan, former president of Bangladesh Association of software and Information Services (BASIS)
If Bangladesh wants to earn $5 billion, exporting software by 2021, it will have to post about 50% growth instead of existing nearly 15%, but the current growth is satisfactory, said Ahsan.
He also stressed investment in marketing.
"The actual earning from the IT sector including export freelancer and IT freelancing services was about 400 million, of which 152 million came through legal channel, 70 million from free lancers and the rest from different ways," State Minister for ICT Ministry Zunaid Ahmed Palak told the Dhaka Tribune.
It is quite possible to earn $5 billion by 2021 as our entrepreneurs like Tiger IT, which got a contract of $43 million from Nepal, are getting more work orders for IT services, said Palak.
By 2018, Bangladesh will be able to reach its export earnings to $1 billion from the sector, he added.
Industry insiders say the sector has much want of IT professionals and the university curricula are not matching with the industry demands.
"We are witnessing an increased number of GPA 5 holders and fresh graduates, but yet to get young generation skilled in IT. To create more professionals for the sector, Bangladesh needs to reform education system," said Shamim Ahsan.
Facilities are being given to promote IT sector, Palak said, adding that primarily 10 IT firms and 10 emerging entrepreneurs are receiving training, low-cost office space and fund facilities.
In addition, 10 start-ups have been offered office space at Software Technology Park (Janata Tower) in Karwan Bazar, Dhaka, at a lower rate so they can build business.
"To meet the demand for IT professionals, we are arranging training for fresh university graduates and based on selection, they will have the 600-hour IT educational training, he added.
Talking on the challenges, the IT entrepreneurs describe slow speed of internet and high prices of bandwidth as barriers to boosting the information technology sector along with the infrastructure.
Since it is a thriving sector, investment is a must while the government should prove business and investment friendly policy support.
The government should monitor initiatives taken to boost the information and technology sector of the country, they said, demanding quick implementation of IT zones.
As regards infrastructure, the junior minister said the government has increased budget allocation in the current fiscal year to improve the infrastructure for IT sector soon.
Tk8,306 crore has been allocated to IT sector for the fiscal year 2016-17. The sector had Tk6,107 crore in the last fiscal year.
Source: Dhaka Tribune