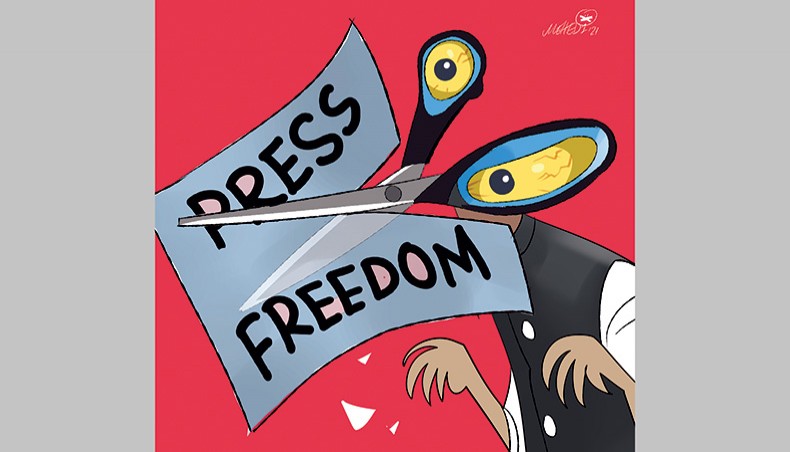 Right group CIVICUS said on a statement on Friday that journalists in Bangladesh have been targeted for their reporting on Covid situation or being critical of the authorities in recent months.
It also said that the government was exploiting the Covid pandemic to restrict civic space and the country's law-enforcement agencies, including the Rapid Action Battalion and the police, were apparently using the lockdown to silence activists and critics.
Some have been criminalised and attacked, including Rozina Islam, Abu Tayeb Munshi and Ruhul Amin Gazi and there was still no accountability for the death of writer and commentator Mushtaq Ahmed.
CIVICUS, an international non-profit organisation based in South Africa, said that Rozina Islam, a senior reporter of daily Prothom Alo was the latest journalist to face detention in Bangladesh for her investigative journalism.
A health ministry official had filed a case against Rozina Islam and accused her of stealing confidential official documents from the ministry, said the statement.
CIVICUS in the statement said that Rozina was prosecuted for reportedly producing several investigative reports on the public health sector.
Abu Tayeb Munshi, a correspondent of NTV, Dainik Loksomaj and Khulna Gazette, was arrested on April 20 in a case filed under the Digital Security Act after he had made a Facebook post about alleged corruption involving a private company owned by a leader of the ruling Awami League.
Daily Janakantha dismissed 26 journalists in March and following that a group of 'thugs' attacked the protesting journalists.
Ruhul Amin Gazi, the chief reporter of the daily Sangram has been languishing in jail for seven months after he was detained on October 21, 2020 and charged with sedition under the Digital Security Act in a complaint filed in December 2019 over a news article calling Abdul Quader Molla — an opposition figure executed in 2013 for war crimes — a 'martyr'.
Muktijuddho Mancha — a pro-ruling party group —physically assaulted the daily Sangram editor Abul Asad, vandalised the newspaper's office and filed a case against him for publishing the article. The perpetrators of the attacks have not been held accountable.
The CIVICUS also added that reports of police brutality and attacks by pro-government groups on anti-Modi protesters in March 2021 have yet to be investigated.
Protests erupted in Bangladesh in March 2021 against the visit of Indian prime minister Narendra Modi. The government launched mass arrests against the anti-Modi protesters.