Hasina to Bhutanese PM at bilateral talks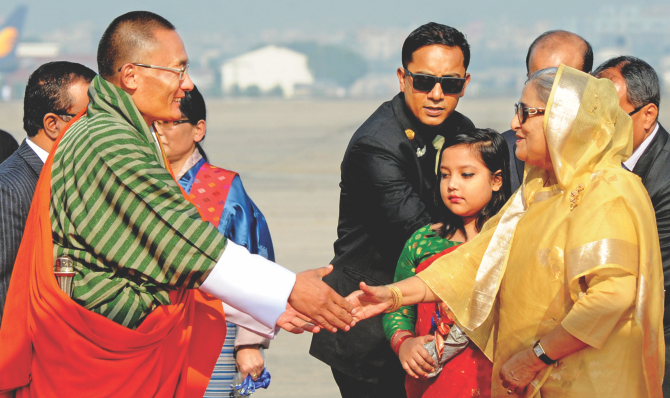 Bangladesh yesterday urged Bhutan to consider it as a partner in its future hydropower projects as Dhaka and Thimphu agreed to bridge the existing trade gap between the two countries.
The request was made at the bilateral talks between the two sides at the Prime Minister's Office. Prime Minister Sheikh Hasina and her Bhutanese counterpart Tshering Tobgay led their respective sides at the meeting.
Briefing reporters later, PM's Press Secretary AKM Shameem Chowdhuri said both the leaders stressed the need for enhancing bilateral trade to reduce the existing trade gap as Bangladesh currently exports items worth Tk 20 crore while imports goods worth Tk 175 crore.
Bhutan has huge potentials for production of hydroelectricity which can make a significant contribution to the country's economy if the surplus power is exported to neighbours, Shameem quoted Hasina as saying.
"We're trying hard for energy security to continue our pace of sustainable development. We're hopeful that Bhutan's untapped hydropower potentials would come to meet our growing energy needs," she added.
Bangladesh, mentioned Hasina, is confident that Bhutan will not allow its hydroelectric projects on the common rivers, which would have adverse effects on Bangladesh.
Bangladesh has unilaterally offered Bhutan to use Chittagong and Mongla seaports and also Lalmonirhat and Saidpur airports. "You're also welcome to use our Paira seaport which is coming up," said the PM.
To enhance bilateral trade, Bangladesh has taken a number of measurers, including development of trade infrastructure along its border, she noted. "These have resulted in a tremendous increase in Bhutanese export to Bangladesh. But the flow of our products remains quite low. We hope that Bhutan would allow entry of more Bangladeshi products into its market."
Hasina said connectivity remains the most crucial issue to enhance regional cooperation. Bangladesh needs to establish itself as the hub of regional connectivity so as to ensure seamless connectivity to the region and beyond.
Putting emphasis on enhancing cooperation in flood control and flood migration, she said more reliable flood forecast data from Bhutan would help Bangladesh tackle floods in the Brahmaputra basin.
Bhutan, he said, needs skilled workers from Bangladesh, especially doctors. In response, Hasina requested him to hike the salaries of doctors.
Tshering Tobgay urged his Bangladesh counterpart to use boulders instead of bricks in different construction projects in Bangladesh to protect ecological balance.
Earlier, Hasina along with her delegation members welcomed the Bhutanese leader to the PMO. Finance Minister AMA Muhith, Commerce Minister Tofail Ahmed, Foreign Minister AH Mahmud Ali, State Minister for Health Zahid Malek and State Minister for Power, Energy and Mineral Resources Nasrul Hamid were present.
The Bhutanese premier was accompanied by Foreign Minister Rinzin Dorje, Economic Affairs Minister Norbu Wangchuk, Director General (policy and planning) at the foreign ministry Sonam Tobden Rabgye and Chief Urban Designer Tashi Penjor. It was his first visit to Bangladesh since assuming office in July last year.
RECOGNITION OF INDEPENDENCE
Prime Minister Sheikh Hasina yesterday received a copy of the historic felicitation message sent by the third King of Bhutan, Jigme Dorji Wangchuck, to the then acting president Syed Nazrul Islam, recognising Bangladesh as an independent country.
The Bhutanese PM handed over the felicitation message to Hasina during their private conversation at the PMO, said a foreign ministry official.
Source: The Daily Star