Paradise Papers: Mintoo family named
His oil company links, Unocal controversies come to fore
The Paradise Papers leak has revealed that businessman and BNP Vice Chairman Abdul Awal Mintoo had registered his energy company NFM Energy Ltd in tax haven Bermuda on August 9, 1999—just around the time when the American company Unocal had given him a small share to help "troubleshoot" its local business.
The documents also revealed names of Mintoo's wife Nasreen Fatema Awal, and three sons — Tabith Mohammed Awal, Tafsir Mohammed Awal and Tajwar Muhammed Awal as shareholders of this offshore company.
Mintoo's business website Multimodebd.com has a page of NFM energy that says, "NFM Energy Limited is one of the industry leaders in gas drilling exploration sharing interests and investments in Chevron Bangladesh Ltd. It is engaged in Gas Exploration of blocks 12, 13 and 14." However, the webpage became inaccessible since Saturday evening.
Mintoo enjoyed this share for more than a decade until the American oil giant Chevron, that acquired Unocal globally, bought his share some three years back, industry insiders said.
Chevron Bangladesh's annual profit hovered around a couple of hundred million dollars few years back, industry insiders added.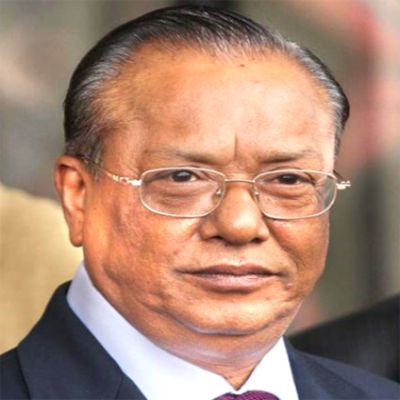 Unocal, where Mintoo held some one percent share, had earned several controversies in Bangladesh— including its relentless bid to export gas from Bibiyana field in Sylhet during the Awami League rule in the late nineties and later in the following BNP    regime.
In spite of enjoying high level access to the AL government in the late 90s, in a sudden move right before the 2001 polls, Mintoo joined BNP.
The Paradise Papers is a set of 13 million confidential electronic documents related to offshore investments. The International Consortium of Investigative Journalists has been releasing some of the documents to the public since November 5 this year.
Talking to The Daily Star at his office in Dhaka yesterday, Abdul Awal Mintoo stated that he had business with Unocal and later with Chevron.
"I used to hold one percent interest in Chevron a long time ago. Now I don't have any relations with Chevron," said Mintoo.
"That my name popped up in Paradise Papers is perhaps because of my link with Chevron," he added, explaining that as he had to deal with an international company he set up the offshore company. "I did not transfer any money from Bangladesh," he said.
"I have now asked my American (business) partner why my name has popped up in Paradise Papers after so many years," he pointed out, "after I get more information, I can explain things in detail."
Explaining his role in Unocal, he said he brought in Unocal when he learnt that Bangladesh had a lot of potentials in the energy sector while the country lacked experience in exploration and development of gas fields. "I had my interest. But I put the national interest first," he claimed.
Focusing on the gas export controversy of Unocal, he said, "At that time I heard that Bangladesh was floating on gas with so many discoveries—so I supported the idea of export. But I changed my mind when I learnt it was not so."
"I have international businesses. So what is the problem if I open an offshore company?" he asked.
UNOCAL CONTROVERSY
According to the Paradise Papers, Unocal had registered several companies in Bermuda, among them were, "Unocal Bangladesh ltd", "Unocal Bangladesh Exploration Ltd", Unocal Block Five Ltd, Unocal Block Ten Ltd, Unocal block 13 and 14 Ltd etc, between 1993 and 1998—when the company owned no such assets in Bangladesh.
While Unocal registered two companies on blocks 12, 13 and 14 in Bermuda back in 1993, it was actually another American company Occidental that had signed two PSCs for these three blocks in 1995 after two years of unsolicited negotiations.  These three blocks now are known as Bibiyana, Moulavibazar and Jalalabad gas fields.
Unocal entered Bangladesh gas exploration scene in late 1996– pushing for an unsolicited deal over the Shahbazpur gas field at Bhola. Its attempt to win the gas deal ultimately did not work out in 1998 because of the controversies arising from a consultant report that the terms of the deal were not favourable to Bangladesh.
Occidental's operations in Moulavibazar suffered a massive blowout in 1997 known as the Magurchhara blowout following which Occidental was ready to wrap up its operation in Bangladesh.
However, in mid-1998, Occidental made a significant discovery in block 12 in the Bibiyana gas field and it made an initial assessment that the field had a recoverable reserve of around 5 trillion cubic feet (tcf) of gas. A year later, Occidental sold its Bangladesh assets to Unocal.
By that time Unocal had given Abdul Awal Mintoo a one percent share to "facilitate its operation in Bangladesh." This information was first shared with The Daily Star by Unocal Bangladesh's second in command Greg Gritters at that time.
Since taking over Occidental's assets, Unocal had been saying Bangladesh did not have sufficient domestic market demand to justify developing the Bibiyana gas field and pushed for export of the gas to India. The company conducted the country's first 3D seismic survey in the gas field to confirm that the field was indeed massive.
But the then Awami League government was not interested in  exporting the gas. During the then   US president Bill Clinton's visit in March 2000, Prime Minister Sheikh Hasina at that time suddenly announced that Bangladesh would not export any gas unless confirmed first that there was a 50-year gas reserve for the nation.
Soon after, with the October 2001 elections looming, Abdul Awal Mintoo suddenly joined the BNP just several weeks before the polls.
The BNP won the 2001 elections.
In early 2002, the BNP government formed a national committee to advise on national gas utilisation. One of the mandates of this committee was to see if Bangladesh could export gas. Except for two members, known to be vocal in favour of Unocal's agenda, all members of the national committee ruled out gas export, saying the nation was headed for massive gas crisis in the coming years.
Unocal then slacked off with the Bibiyana gas field development. However, in 2004, it finally agreed      to develop the field for the local    market.
Unocal was globally acquired by Chevron in April 2005. After the Chevron takeover, its Bangladesh chief said Bangladesh had enough energy market demand and there was no need to export the gas. Since then Chevron has been operating in Bangladesh without controversies.
Today Chevron is responsible for half of the gas supplies of Bangladesh from these fields.
The article appeared in the Daily Star on 19/11/2017