Delayed implementation adds additional Tk 8000cr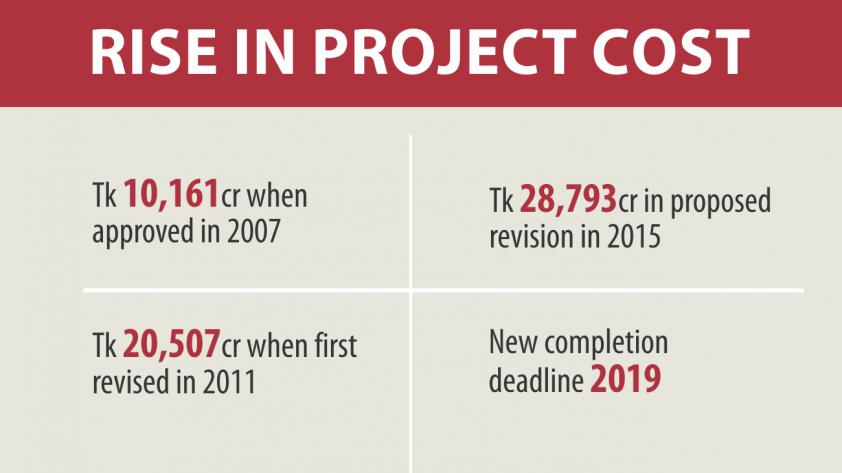 The Bridges Division has revised the cost of the much-hyped Padma Bridge project by 40 percent, raising the estimated cost to Tk 28,793 crore.
The project cost is getting increasingly high due to the delay in implementation, caused by corruption allegations by the World Bank.
Originally, the cost was estimated at Tk 10,161 crore when the project was approved in 2007. However, it did not include the cost of railway lines on the Bridge.
After the first revision in January 2011, the estimated cost stood at Tk 20,507 crore, including that for rail tracks.
Last week, the Bridges Division sent the latest estimate to the Planning Commission, which will soon be placed before the Executive Committee of the National Economic Council for approval.
The project is running four years behind schedule after the WB withdrew its $1.2 billion loan in 2012 over allegations of corruption conspiracies involving top government officials and a Canadian consultancy firm. The government then moved to build the bridge with its own fund.
Initially, the project was to complete by this year. But it is now expected to be completed by 2019.
Before the WB's withdrawal, four foreign donors had committed $2.3 billion for the project. Now, just $200 million grant from the $1 billion Indian credit will go to the project.
According to the revised estimate, the 6.15km main bridge will now cost Tk 12,133 crore, up from the 2011 estimate of Tk 8,361 crore.
China Major Bridge Engineering Construction Company has been awarded the job of constructing the main bridge and it started work in November last year.
As of February, it completed about 1.5 percent of the work and expects to build the main bridge by 2018.
Another major component of the project is river training. Its estimated revised cost is Tk 8,707 crore against the previous estimate of Tk 5,363 crore. Sinohydro Corporation Ltd, another Chinese company, has secured the job.
The job of river training started in November last year and is scheduled to complete by November 2018. Until February, 2.5 percent work of this component has been done, according to a project status report.
Korea Expressway Corporation and South Korea & Associates have been hired as supervising consultants for the main bridge and river training for Tk 383 crore.
The cost of Mawa and Jazira approach roads to the dream bridge has now been estimated at Tk 1,290 crore. So far, 40 percent of the work has been done.
source: the daily star